Culture & Travel
21 August 2022

First of all, let's take a look at the meaning of the term canyon together. Geographically, deep valleys formed by rivers, that is, deep valleys carved by streams and rivers in calcareous regions, are called canyons. As in the world, there are many natural wonder canyons in Türkiye, each more unique than the other and worth seeing. How about taking a look at the must-see canyons of Türkiye?
1. Adala (Hermos) Canyon, Salihli / Manisa
Adala Canyon, located on the Gediz River, is just one of the natural beauties of Manisa. It's located on the side of the Gediz River between Dibek Mountain and Üşümen Hill, overlooking the Salihli Plain region. As a result of the collapses in these canyons, waterfalls have occurred in some places. Adala Canyon has thousands of years of history and dates back to ancient times, is so beautiful that it can literally feast on nature for its guests. The 12-thousand-year-old footprint in the region is worth seeing.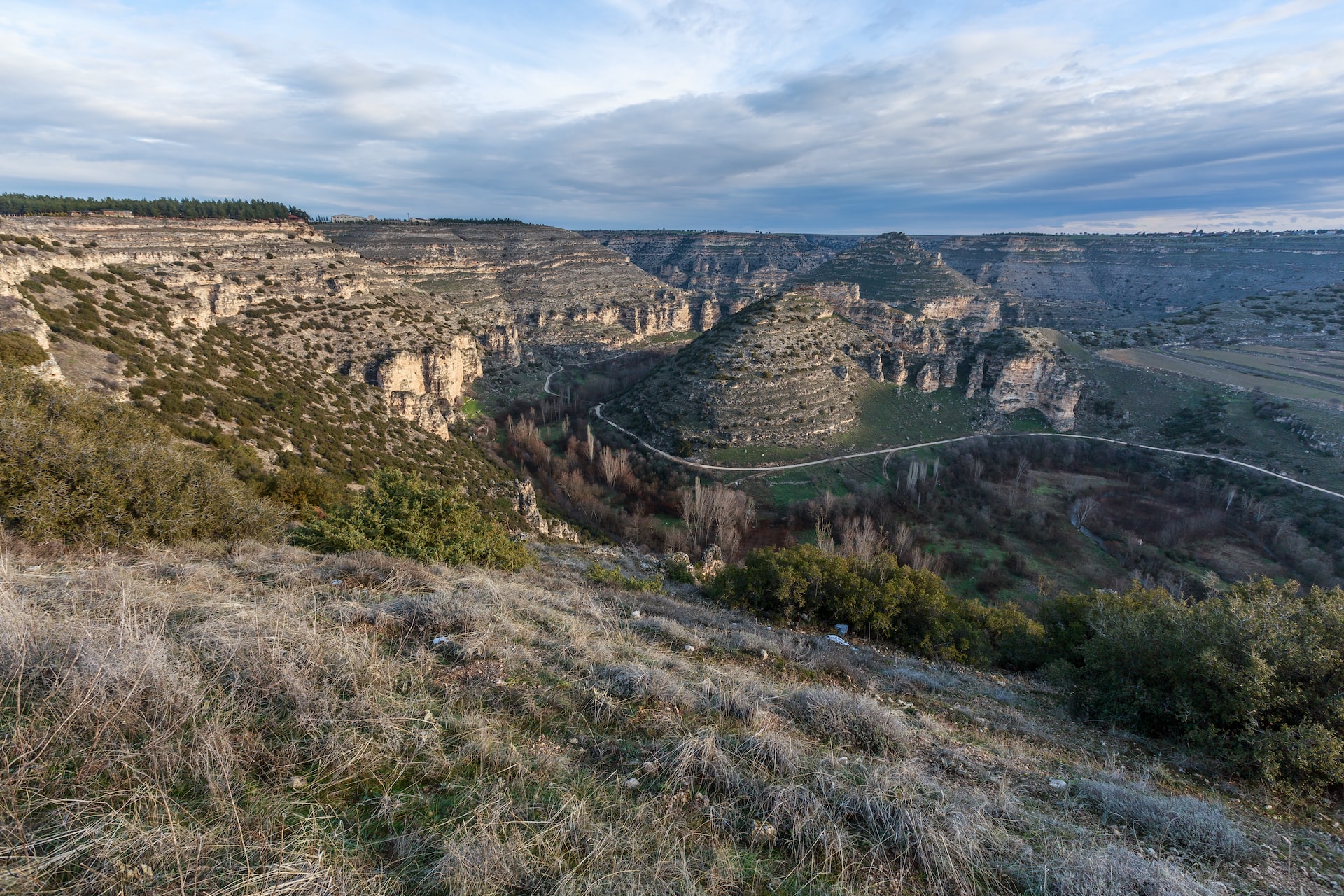 2. Ulubey Canyon, Ulubey / Uşak
Ulubey Canyon, known as the second longest canyon in the world after the Arizona Grand Canyon in the USA, has a length of approximately 77 kilometers. Remember that Dokusele Stream and Banaz Stream flow from the ground part of the canyon, which gives a different beauty to the canyon. In the region, you can do rock climbing, rafting, trekking on certain routes, and stay in Ulubey Bungalow houses. While you are here, never forget to enjoy the view from the glass terrace at an altitude of 150 meters.
3. Karanlık Canyon, Kemaliye / Erzincan
Canyon view as far as the eye can see, boat tours in lush waters, active water sports such as canoeing, rafting, jet skiing, and boat tour are some of the activities you can do in the Karanlık Canyon. Never neglect to take a full boat ride in the canyon, which is approximately 25 kilometers long. Dark Canyon is one of the must-see canyons in our country with its magnificent structure and natural beauty that will make you feel like you are in eternity. The Euphrates River Road between Kemah and Kemaliye, passing through this canyon, has managed to be among the 10 routes of Europe by KANU Magazine.
4. Valla Canyon, Pınarbaşı / Kastamonu
Valla Canyon, located in the Pınarbaşı district of Kastamonu, is known as the second deepest canyon in the world. Created by Devrekani Stream between the Küre Mountains, Valla Canyon has high cliffs accompanied by birds of prey such as hawks and vultures. The canyon, recommended to be crossed with a professional team, is one of the beauties that should be seen in our country. If you are not afraid of heights, never forget to immortalize a photo on the terrace in the canyon in Muratpaşa village.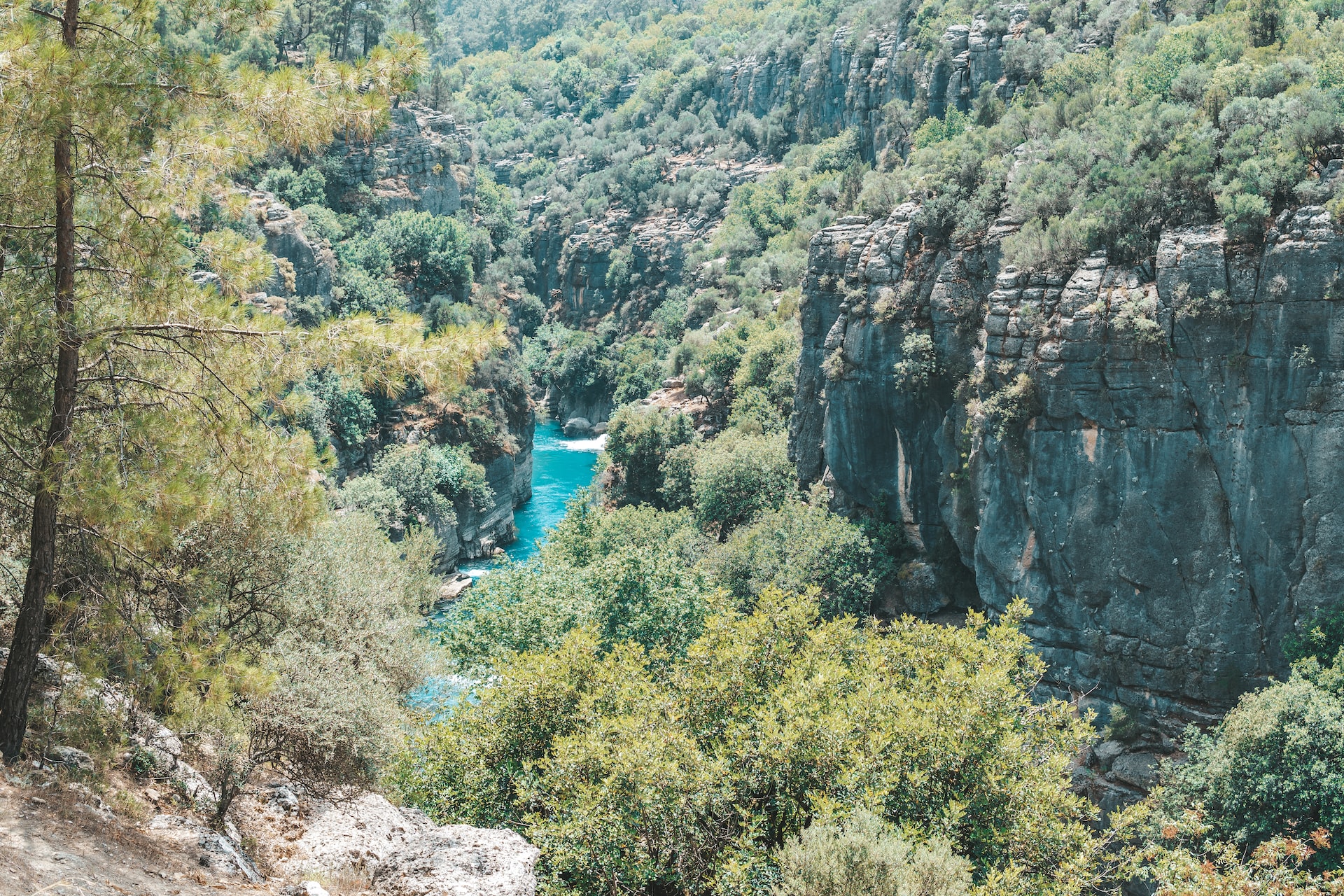 5. Köprülü Canyon, Döşemealtı / Antalya
Located within the borders of the Manavgat district, Köprülü Canyon is known for being one of the longest canyons in our country, with a length of 14 kilometers. The ancient city of Selge, located on the western part of the Köprüçay River, is home to valuable Roman structures such as blinds, ruins, and historical roads. Never leave Döşemealtı without seeing the canyon where the steep cliffs blink. The canyon, brought to life by the Taurus Mountains, awaits its guests with its natural beauty.
6. Arapapıştı Canyon, Bozdoğan / Aydın
Arapapıştı Canyon, which is connected to the Bozdoğan district of Aydın, where boat tours are organized, is a canyon at an altitude of 380 meters, which was formed by the erosion of Akçay. The canyon, which has managed to attract its guests with its lush waters, is known as a quiet paradise in the Aegean region. Visitors continue to show great interest in the canyon, where important structures such as historical ancient city ruins and a rock tomb known to be about 2500 years old are located. Opened to visitors in 2017, the canyon dazzles with its natural beauty.
7. Cehennem Deresi Canyon, Ardanuç / Artvin
Located approximately 7 kilometers northwest of the Ardanuç district, the Cehennem Creek Canyon is a canyon formed between the mountains with its narrow roads and steep paths. Cehennem Creek Canyon, named after the difficulties experienced in reaching this canyon in the past, is one of the canyons that should be seen with its vegetation, caves, and natural waters. Although its name is Cehennem (meaning hell in English), the canyon, which awaits its guests with its paradise-like nature, is known for its 500 meters long and 70 meters wide.
8. Saklıkent Canyon, Fethiye / Muğla
It is impossible to mention Saklıkent Canyon, one of the first things that come to mind when talking about canyons in Turkey. Welcoming thousands of local and foreign tourists every year, Saklıkent Canyon has an unforgettable view with its ice-cold water and natural wonders. The walk you will take between the rocks during a legendary landscape will be a candidate to be among your unforgettable memories for life.
9. Akyaka Canyon, Akyaka / Kars
Akyaka Canyon in Kars, which is the choice of visitors who want to have a nature walk and picnic, is about 10 kilometers long. The canyon, which was unfortunately used as a garbage dump long ago, has managed to become a truly attractive tourism area after being cleaned. The canyon, where various activities such as rafting or trekking can be done, is now ready to welcome its guests.
10. Gödet Canyon, Karaman
Again, there is a hidden paradise before us: Gödet Canyon in Karaman draws attention with its historical ruins and Roman-period rock tombs, castles, and religious sites around the village. Gödet Canyon is one of the places that deserve to be visited with its untouched beauty, calming atmosphere, and the structure that makes up Gödet Dam. Considered a chosen destination for nature and photography lovers, the canyon deserves a once-in-a-lifetime visit.
11. Kapuz Canyon, Konyaaltı / Antalya
With its clear waters, pond in the mouth area, and calming spirit, Kapuz Canyon is a canyon that has become an indispensable part of Konyaaltı. The canyon, which is especially suitable for trekking and rafting, is a point that impresses its guests with its natural beauty, although it is usually crowded. With its waters, where there is much fish, and its walks, it is among the indispensable of visiting the Kapuz Canyon.