Culture & Travel
15 May 2023

Mountain Ida, also known as the Kaz Mountains, is world-famous for being one of the most oxygen-rich locations on Earth. Its lush forests and legendary natural beauty make it a must-see destination in Türkiye. Recently, boutique hotels and bungalow accommodations in the region have become highly sought after. Don't miss out on the top attractions and experiences in the Kaz Mountains, and make the most of your time there. Whether you're looking for serene walks, meditation in untouched nature, the comfort of boutique hotels, or a tranquil and healthy atmosphere, Mountain Ida is the perfect choice for a vacation or a rejuvenating break. Take a look at our special travel guide for Mountain Ida.
A Must-See: Hasan Drowned Pond
Hasan Boğuldu Pond, famous for its stunning nature, waterfalls, and abundant oxygen from its forested surroundings, has a poignant love story behind it. Take leisurely walks around Hasan Boğuldu Pond, known for its trout, to reconnect with yourself and escape the hustle of the city. While the pond's natural beauty and tragic tale may evoke emotions, remember that visiting this area is sure to uplift your spirits in no time.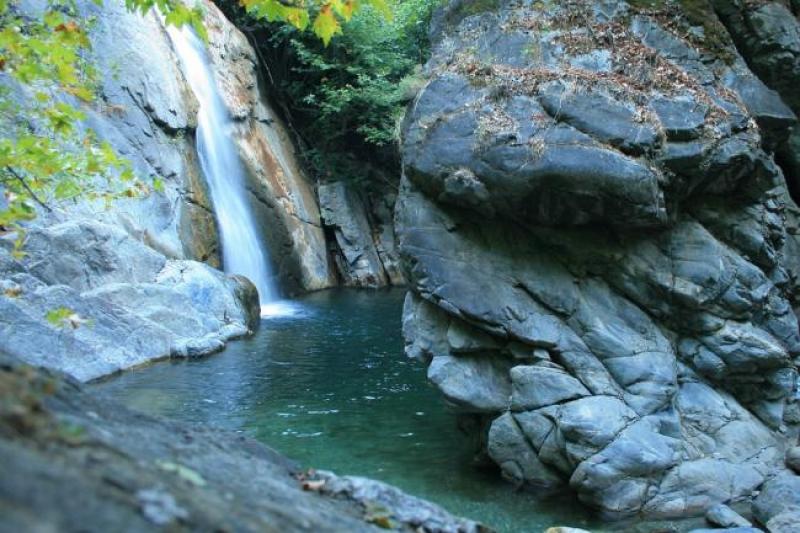 A Legendary Natural Beauty: Kazdağı National Park
Kaz Mountains National Park, one of Türkiye's most important and precious regions, attracts numerous tourists from both Türkiye and abroad. It has become a favorite destination for travelers thanks to its picturesque villages, hiking trails, waterfalls, and boutique hotels. Don't miss the chance to explore the lush green villages like Eski Güre, Zeytinli, Yeşilyurt, and Çamlıbel. When visiting, remember that the Kaz Mountains, located between Balıkesir and Çanakkale, are a national treasure.
Unparalleled View: Kaz Mountains Glass Observation Terrace
The Kaz Mountains Glass Observation Terrace, built on Şahinderesi Canyon in 2021, offers an unmatched panoramic view. Located at an altitude of approximately 830 meters, this terrace provides a breathtaking atmosphere that transports you to another world. The Ida Mountains Glass Observation Terrace is definitely a must-visit spot. Nature enthusiasts seeking to immerse themselves in the essence of the Kaz Mountains should not miss out on these stunning glass viewing terraces.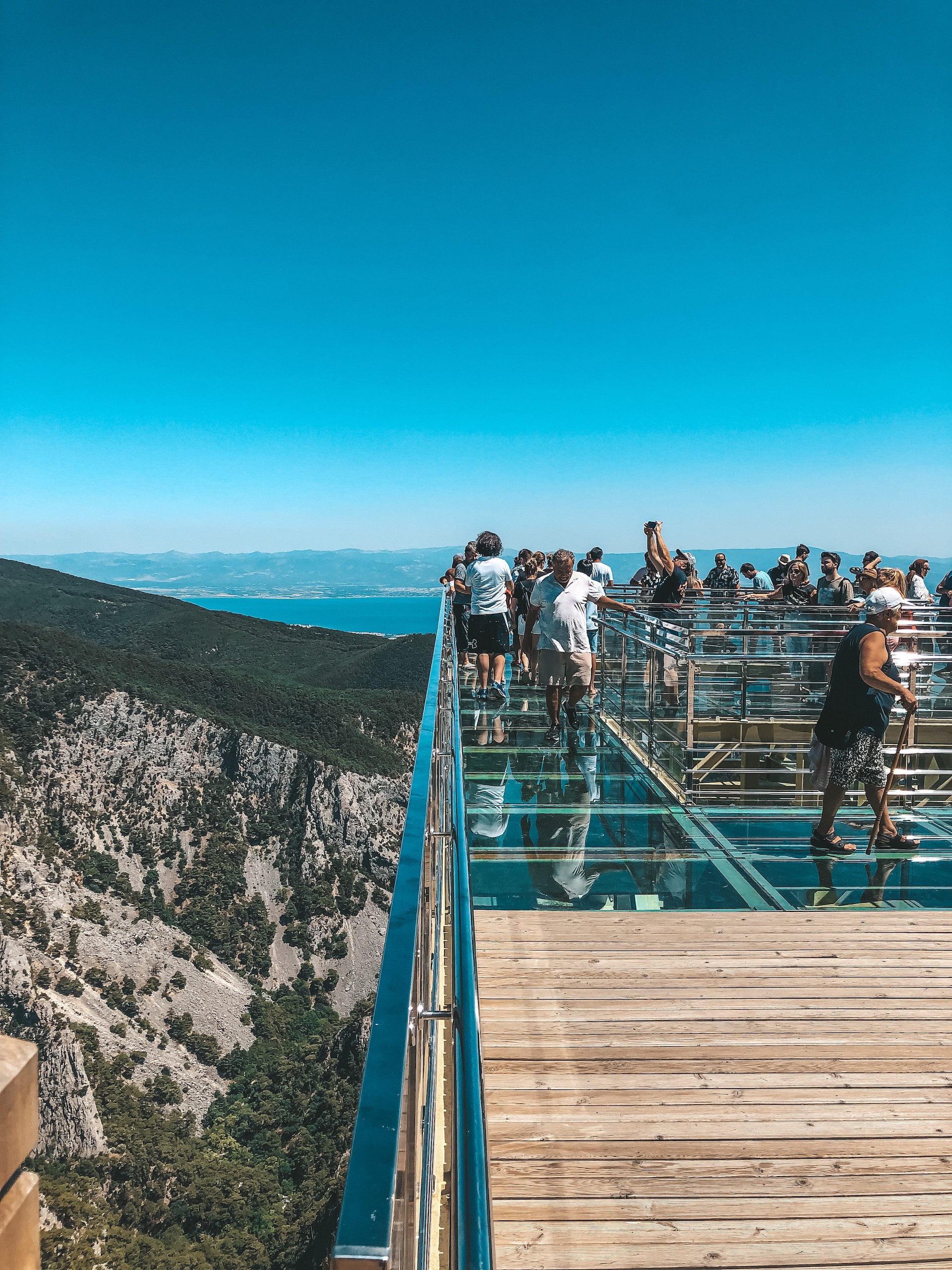 New Name for Camping: Kaz Mountains Campgrounds
The Kaz Mountains offer excellent camping opportunities for nature lovers seeking tranquility. If you're someone who believes "a tent and a view are all I need," then the campgrounds in Mount Ida are perfect for you. The Mehmet Alan Village Campground allows you to set up tents and camp in designated forest areas. While there are free sections available, you can also opt for facilities like electricity, water, and showers for a fee. Another option is the Değirmen Kamp Kaz Mountains, known for its 100-year-old stone mill. This campsite features caravans, tents, and bungalows, as well as a restaurant to cater to guests' needs.
Enchanting Village Beauty: Adatepe Village
Adatepe Village stands out as a charming village in the scenic Mount Ida Mountains, which is home to many beautiful villages. Despite being located an hour and a half away from Mount Ida, it deserves a spot on our list as one of the must-visit villages. Its narrow streets and verdant Albanian trees create a picturesque ambiance. Indulge in delicious ice cream from local shops and take leisurely walks along the charming Albanian streets to fully enjoy the enchanting atmosphere of Adatepe Village.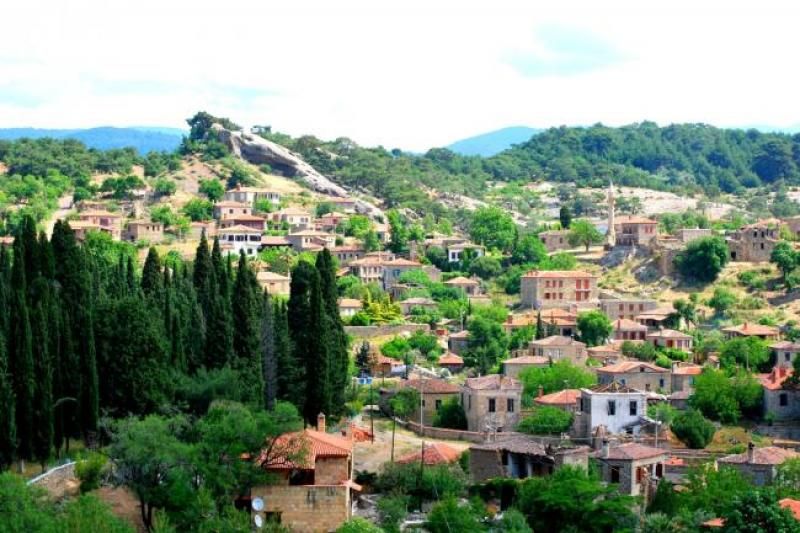 Must-Try Flavors for Kaz Mountains Travel Guide
When visiting the Kaz Mountains, there are flavors that you simply must try. Don't miss out on stuffed zucchini blossoms, Aegean herbs, Aegean appetizers, cranberry syrup, delicious meat dishes (both red and white), Balıkesir's renowned cheese products, olives, and olive oil. These are mouthwatering delights that you should not leave without tasting. If possible, consider purchasing these items to bring home for yourself or as gifts for friends. Additionally, don't forget to indulge in local pastries such as ravioli, pastry, bread, keşkek (a traditional dish), chicken-filled ravioli, hair roasting, höşmerim (a dessert), and Balıkesir clotted cream. These unforgettable flavors will leave a lasting impression.
List of Must-Do Activities in Mount Ida
The Ida Mountains, a legendary destination, offer a range of activities for you to experience eternal peace. Engage in yoga sessions, enjoy safari tours in the region with jeep vehicles, go camping, relax in thermal waters, and take leisurely walks in breathtaking landscapes that you'll never want to end. Also, make sure to savor the magnificent cuisine of the Ida Mountains before leaving the area, as missing out on it would be a regrettable loss.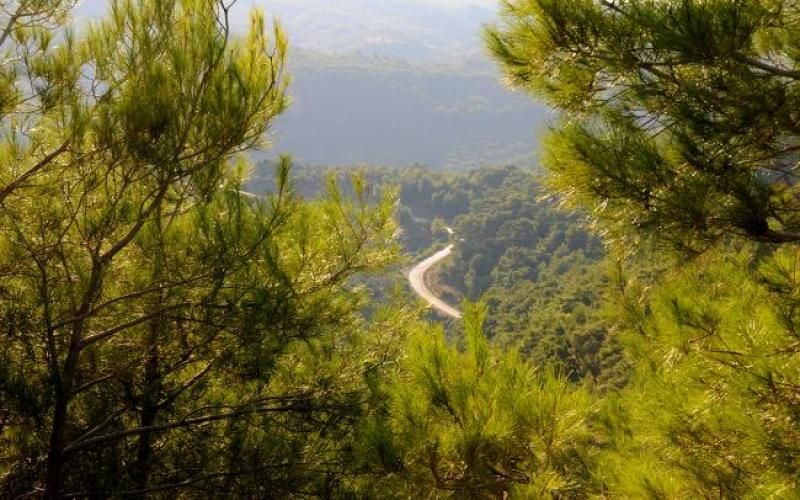 Kaz Mountains Accommodation Options
In the Kaz Mountains, you have various accommodation options to choose from, depending on your preferences. You can stay in exclusive boutique hotels, camp in the unique natural surroundings, or enjoy the recently popular bungalow hotels. The Kaz Mountains offer a range of alternatives that allow you to immerse yourself in nature or relax in thermal waters. Regardless of your choice, the Kaz Mountains will be the perfect destination for you.
Getting to Mount Ida
For transportation to the Kaz Mountains, situated between Çanakkale and Balıkesir, here is some distance and transportation information. It is approximately a 5-hour drive from Istanbul, 4 hours from Izmir, and 8 hours from Ankara. No matter where you are in Türkiye, you won't have truly explored the tourism paradises of Türkiye without visiting the world-famous Mount Ida. The paradise of Mount Ida is waiting for you to discover.