Culture & Travel
26 November 2020
Güncelleme Tarihi: 15 July 2022
Every country has a work that has become a symbol. For example; When we think of the Eiffel Tower, we think of France, when we think of the Statue of Liberty, America, and when we see the Leaning Tower of Pisa, we think of Italy. However, apart from the structures that everyone knows, there are sometimes small and sometimes large sculptures that attract the attention of tourists. In this article, we have compiled interesting sculptures from all over the world for you. Good reading!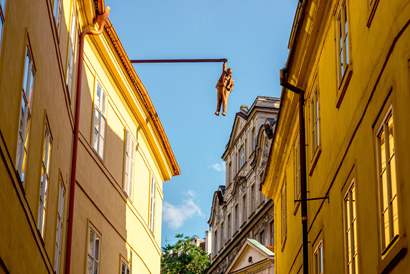 1-Man Hanging Out - Prague / Czechia
Although it frightens those who see it at first glance, this is just a statue of Sigmund Freud hung from the apartment. Located in Prague's Old Square, this sculpture was designed by David Cerny in 1996. They attributed two different meanings to the statue. First, Sigmund Freud's 20th century. While he says that he questions his intellectuality, the second argues that Freud is the embodiment of the problems he experienced throughout his life.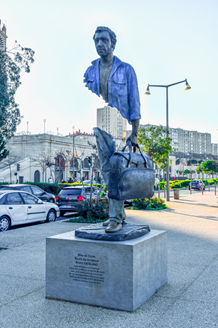 2-The Travelers - Marseille / France
The Wanderers are half-empty human sculptures made by the French artist Bruno Catalano. The sculptures were put on display after Marseille became the European Capital of Culture in 2013. Although the missing parts of the sculptures make them look like they are flawed, in fact, those gaps are the reason why the sculptures are extraordinary and unique. The meaning of the spaces is; It can be interpreted as 'Do travelers miss something?' or 'Have travelers left something behind?' 10 of the sculptures are exhibited in the Port of Marseille, you can find more on Bruno Catalano's own site. In addition, the sculptures were exhibited not only in Marseille, but also in many different cities such as Paris and Venice.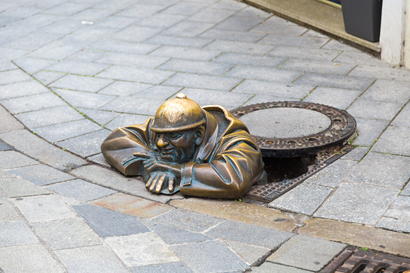 3-Čumil - Bratislava / Slovakia
The statue of Cumil is a sewer worker with his head stuck out of the manhole cover and looking around with smiling eyes. Cumil has 2 different stories. First; While it tells about the new city that was established after the invasion in 1805, the second one is a story that will make you smile a little more. The story tells that Cumil stuck his head out of the manhole cover and spied on the Slovak girls. They even gave him this name because Cumil's meaning is "watchman".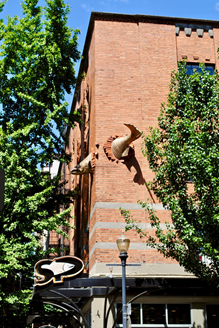 4-Transcendence - Portland / USA
Salmon is an outdoor sculpture by Keith Jellum. The statue is a 3.4-metre-long salmon swimming in hand-hammered bricks. The harmony of the statue and its location is magnificent. The statue is located on Salmon Street, above the fish restaurant.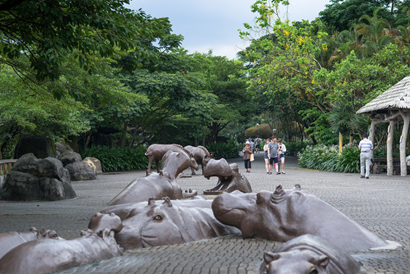 5-Hippo - Taipei/Taiwan
Hippo Heykeli, Taipei Hayvanat Bahçesinde bulunan, su aygırlarının yarısı yerin altında gibi gözüken heykellerdir. Bu heykel, Boredpanda sitesinde dünyanın en yaratıcı 25 heykelinden biri seçilmiş. Heykel fikri, hayvanat bahçesinin eski müdürü olan Chen-Pao Chung'dan çıkmış. Afrika Hayvanları bölümünü bitirirken böyle bir fikir gelmiş aklına ve bir anda hayvanat bahçesini simgesi olmuş.
6- Expansion, Brooklyn/ New York
This statue of us is a woman and she is sitting in a meditation position. You might say how interesting it would be to have a meditating woman placed in the middle of the city. However, you are wrong. Because there are cracks in the body of the woman who has entered this contemplation trance, and the light is leaking from these cracks. We can say that this statue of a woman, which seems to have a superior power, is aesthetically pleasing to the city. If you have come to New York, we recommend you to see this beautiful sculpture.
7- Shoes On The Danube Bank, Budapest/ Hungary 
When you come to Budapest, you will see a symbolic monument consisting of men's and women's shoes placed right on the banks of the Danube. These symbolic shoes are actually a Holocaust memorial. It represents the Jews who were brought to the riverside and thrown into deep waters to be executed during the Second World War, and their shoes and clothes that they left on the shore before being thrown into the water. Can Togay and Gyula Pauer are the ones who did not want such a sad event to be forgotten today and brought this meaningful monument to life. We recommend you to see this monument, which deals with such a deep subject.