Culture & Travel
26 November 2022

Turkiye is almost like a paradise surrounded by seas on three sides, with so many places to visit and a thousand beauties to see. If you're one of those who want to see places to visit outside Turkiye, it is useful to review Turkiye's customs border gates. Customs border gates, also known as border gates, where customs and passport procedures are carried out during exit and return, are the points where passport and identity checks are made by land, sea, and air or, if necessary, visa checks. There are 8 countries such as Greece, Bulgaria, Georgia, Azerbaijan, and Armenia in the northeast, Syria, Iraq, and Iran in the southeast, and a total of 29 border gates were used during the transition to these countries.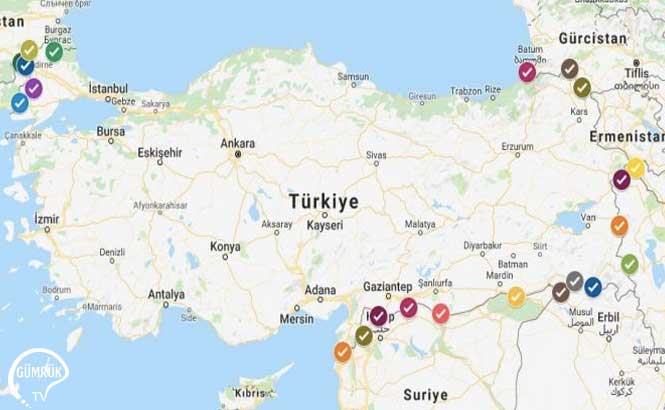 İpsala

Border Gate, Greece
Ipsala, a charming border town of Edirne Province, is the border of Greece located opposite the Kipi customs. This beautiful border gate has many places to visit. Aqueducts, Gala Lake National Park, is one of the must-see places. This border gate has also become famous for Baldo rice, which is especially popular in Turkiye and is not missing from the tables. Ipsala, which is the commercial and passenger entrance and exit gate between Turkiye and Greece, is a district that opens to Europe.
Pazarkule Border Gate, Greece
Pazarkule, the second customs border gate between Turkiye and Greece, has the distinction of being a border gate for which modernization works have been started in the past years. These efforts aimed at attracting Greek tourists are nearing completion in the summer of 2022.
Hamzabeyli Border Gate, Bulgaria
Another gateway to Bulgaria and Europe is the Hamzebeyli border gate. The aim of Hamzbeyli, where the number of platforms was increased in 2020, is to reduce the load of the Kapıkule border gate. Hamzabeyli, where modernization works are carried out as in other gates, is waiting for its passengers to pass.
Kapıkule Border Gate, Bulgaria
Kapıkule, which is the most mentioned and best-known border gate in Turkiye, is an important region opening to Bulgaria and Europe from our country. Historical Rüştempa Caravanserai, Burmalı Mosque, Karaağaç, and Edirne City Forest are some of the places to see in Kapıkule, which is very busy in the summer.
Aziziye- Derekoy, Bulgaria
The border gate in Kırklareli is another border gate opening to Bulgaria. Aziziye - Derekoy border gate, where modernization works are carried out from time to time, aims to further increase the service quality.
Sarp Border Gate, Georgia
Sarp border gate, which is one of the most active border gates of our country in terms of passenger crossings, is almost able to compete with Kapıkule in terms of entry and exit. In Sarp, which provides the traffic between Turkiye and Georgia, especially vehicle entrance and exit is found quite intensely.
Türkgözü Border Gate, Georgia
Türkgözü border gate, which was not very convenient in terms of roads in the past, was therefore not preferred for vehicle entry and exit and truck traffic. However, in Türkgözü, whose maintenance works started in 2021, road traffic was put into service again in June 2022 in a more convenient way.
Çıldır-Aktaş Border Gate, Georgia
Another border gate opening to Georgia is the Çıldır-Aktaş border gate. The border gate, which was modernized and regulated in 2015, is now more ready to serve. Within the scope of these works, there are areas equipped with high technology and food and beverage areas.
Dilucu Border Gate, Azerbaijan
Dilucu, the only land border gate between Azerbaijan and Turkiye, was put into service in 1992. Thanks to the improvements and arrangements made in 2014, passenger and vehicle entry and exit have become more active.
Syrian Border Gates
Between Syria and Turkey, there are many border gates such as İslahiye (Hatay), Cilvegözü (Hatay), Yayladağı (Hatay), Mürşitpınar (Şanlıurfa), Akçakale (Şanlıurfa), Ceylanpınar (Şanlıurfa), Öncüpınar (Kilis), Karkamış (Gaziantep), Çobanbey (Gaziantep), Nusaybin (Mardin), Şenyurt (Mardin), Cizre (Şırnak), and Karbeyaz (Closed).
Alican Border Gate, Armenia
Alican border gate, which is the only highway border gate between Turkiye and Armenia, has been closed since 1993. It was closed during the Karabakh War between Armenia and Azerbaijan and could not be opened to service again.
Gurbulak Border Gate, Iran
Gürbulak, the most important border gate between Iran and Turkiye, was built by Atatürk in 1937. Gürbulak border gate, which continues to serve with its renewed face in 2003, is an important border gate connecting the east and the west.
Esendere Border Gate, Iran
Esendere border gate, which is approximately 40 kilometers from Hakkari Yüksekova, provides services to an average of 800,000 passengers per year after the renovation works.
Kapiköy -Razi Border Gate, Iran
Kapıköy, which is connected to the Saray district of the city of Van, started to serve in 2019 after the modernization and renovation works. The border gate, located on the Silk Road route, is a border gate where passenger and commercial entrances and exits can be made.
Borualan Border Gate, Iran
Borualan border gate, which has been closed since 1988 due to the inability to solve the security problem on the Iranian side in the region, seems to remain closed for a while until these problems are not resolved.
Habur Border Gate, Iraq
Habur, one of the lively border gates of our country, is located in the Silopi district of Şırnak province. Habur, which is the border gate of our country opening to Iraq, has managed to become an important border gate in our country after the modernization and renewal works carried out in 2019.
Uzumlu Border Crossing, Iraq
Hakkari is known for being a border gate that contributes to the economy and unemployment in Hakkari. The Üzümlü border gate is among the important sources of income not only in Hakkari but also in cities such as Çukurca and Van.
Customs border gates are important points that support the economy both in commercial and touristic terms in Turkiye. These customs border gates, which aim to serve with their increasing and renewed faces every year, are affiliated with the Regional Directorate of Customs and Foreign Trade.