Culture & Travel
21 July 2022

Türkiye ranks 3rd in the world in terms of the number of blue flag beaches after Spain and Greece. In 2022, this number has reached up to 531 in Türkiye, with the beaches receiving the blue flag. After Türkiye, Italy ranks 4th with a total of 427 blue flag beaches, followed by France in 5th place with 419 blue flag beaches. Let's take a look at the special and precious blue flag beaches in Türkiye, and let's cheer up a little, huh?
What Does a Blue Flag Beach Mean?
The Blue Flag Program of beaches and marinas started in France in 1985 with the FEE (Foundation for Environmental Education), an international non-profit organization. This program is also used in Europe, South Africa, and other countries outside Europe. There are some important criteria for a beach to receive a blue flag. For example, in order for a beach to receive a blue flag, it must first meet high standards in terms of bathing water quality, hygiene and cleanliness, environmental education and information, environmental management and life safety, and services. In order to reach the standards on these issues, local governments and beach businesses work very hard. Thus, the Blue Flag has managed to become a global application.
Number of Blue Flag Beaches by Cities in Türkiye
The distribution of the number of blue flags according to the cities in Türkiye is as follows: 229 in Antalya, 111 in Muğla, 66 in İzmir, 36 in Aydın, 31 in Balıkesir, 13 in Samsun, 12 in Çanakkale, 11 in Mersin, 7 in Kocaeli, 3 in Bartın, 2 each in Düzce, İstanbul, Ordu, Sakarya, Kırklareli, and 1 each in Van and Bursa. So, Türkiye has a total of 531 Blue Flag beaches.
Purity of Naturalness: Kaputaş Beach, Kaş, Antalya
Kaputaş Beach is one of the countless beautiful beaches in Türkiye. In fact, it has managed to maintain its place among the most loved beaches in the world by numerous publications. At the beach, where no fee is paid at the entrance, the sea can deepen suddenly beyond the limit, so it is worth paying attention to. The beach, which also serves as the home of sea turtles, has an enterprise of the municipality.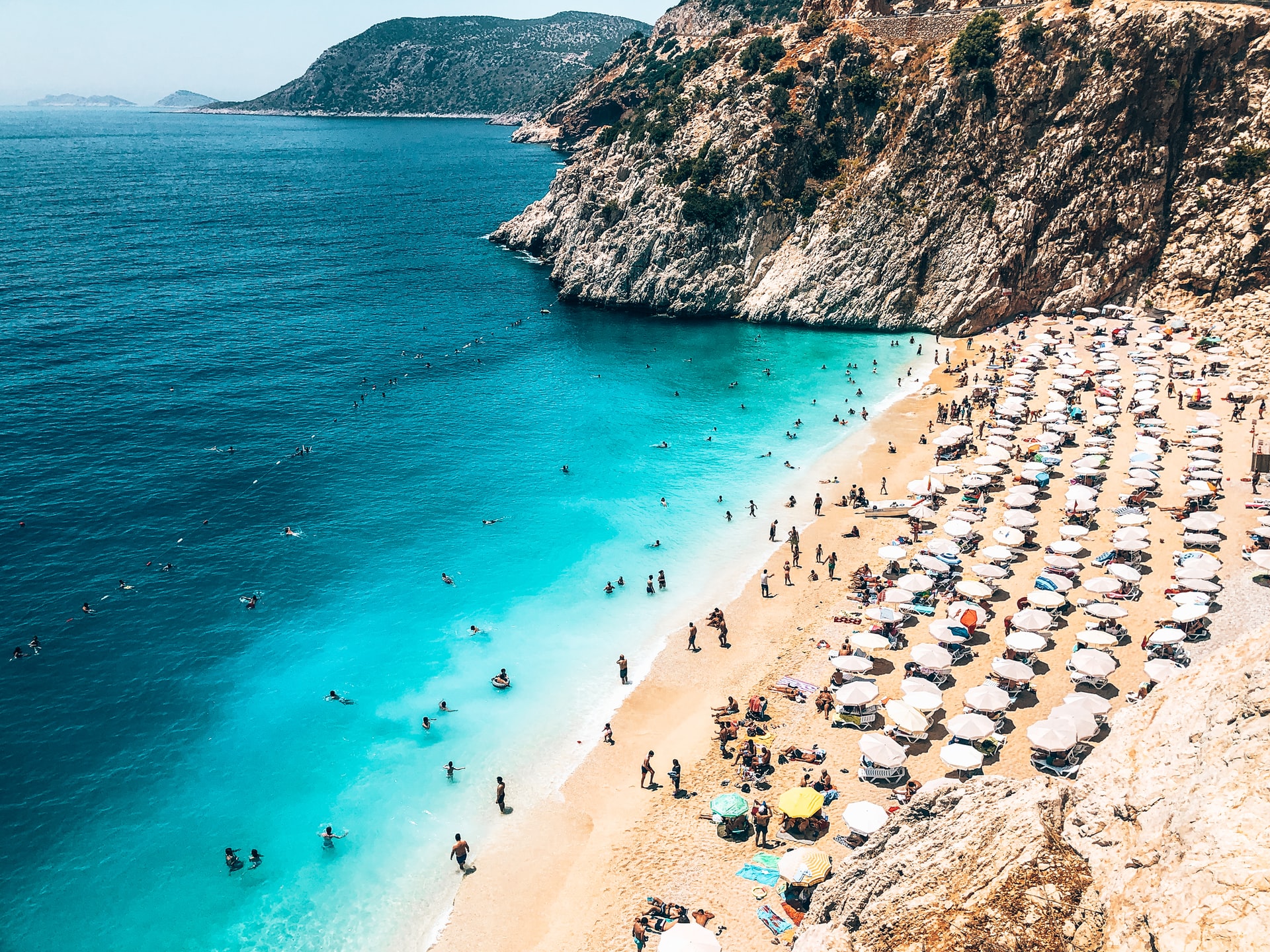 Pearl of Marmaris: İçmeler Beach, Marmaris, Muğla
Icmeler Beach is one of the most beautiful bays of Marmaris. The beach, which attracts attention with its sandy and shallow sea, is a blue flag and clean beach. At İçmeler Beach, which never compromises on its cleanliness, even if there are rows of hotels, you can enjoy the sea during the day and take a walk under the moonlight on the walking path of İçmeler beach in the evening. On this beach, it is possible to experience more active nightlife if you wish.
Turquoise at its Best: Ilıca Beach, Çeşme, İzmir
When fountains are mentioned, clean and clear waters come to mind. Even though paid beaches cost money, Çeşme's Ilıca Beach is waiting to greet the public free of charge with its fine white sands and blue flag. At Ilıca Beach, known as the Maldives of Türkiye, guests can bring their own sun loungers and umbrellas.
Another Vacation Spirit: Davutlar Sevgi Beach, Kuşadası, Aydın
Davutlar Sevgi Beach, which gained the blue flag in 2021, continues to host holidaymakers with its fine sand and clean water. Although the sea is wavy from time to time, there is a problem of algae collection and turbidity; its clean water is enough to relax people. There are free umbrellas or paid beaches on the long beach.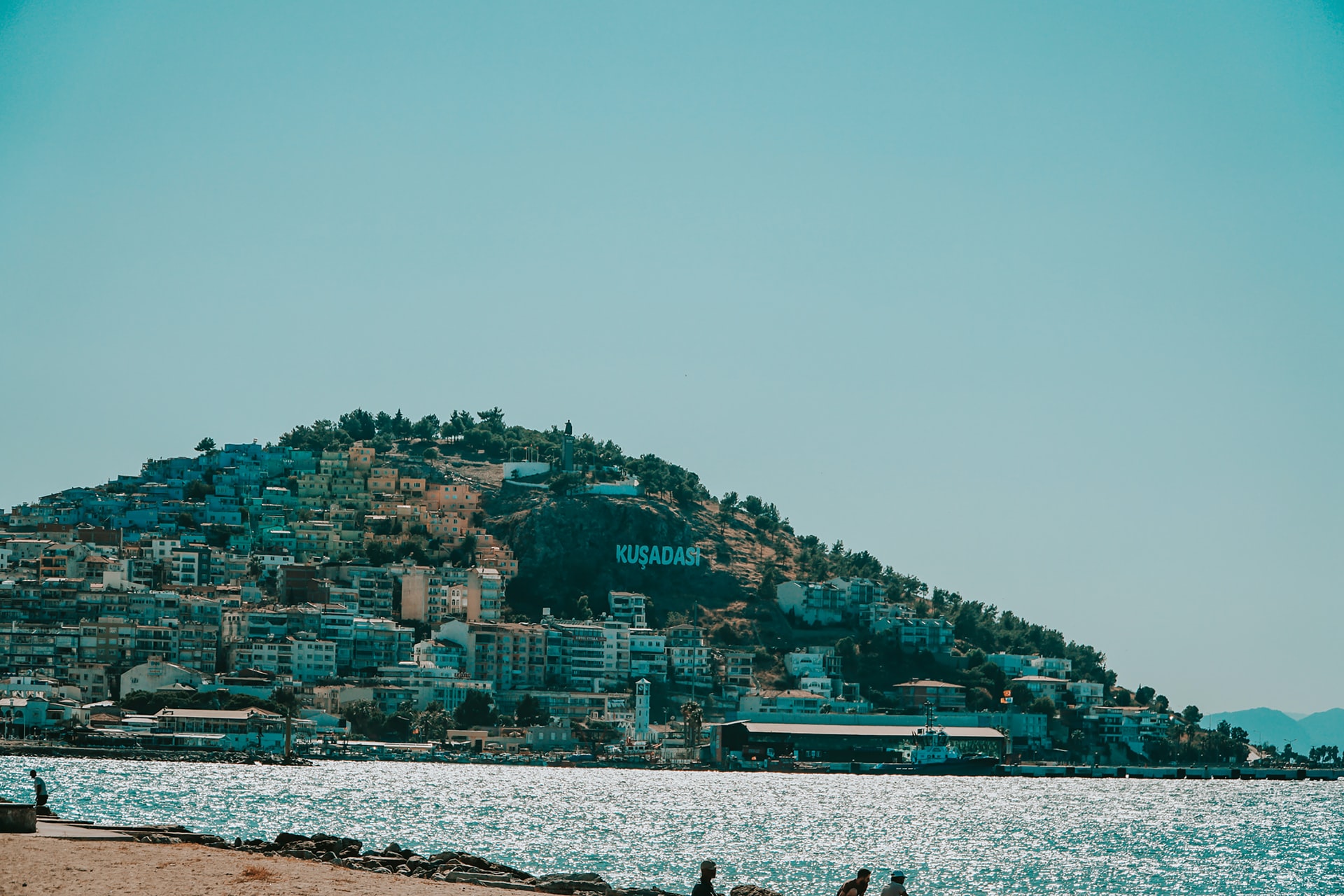 The Beauty of Iznik: İnciraltı Public Beach, Lake Iznik, Bursa
İnciraltı Beach, located in Bursa's water paradise Iznik Beach, is located in the heart of lush trees. The efforts to make this beach a blue flag since 2021 have not been in vain, and İnciraltı Beach has been awarded the blue flag in Lake Iznik. This first event, when the beach in an inland lake of Türkiye received a blue flag, made Bursa very happy.
The Remedy for Hot Summer Days: Mollakasim Public Beach, Tusba, Van
The public beach, located in the village of Mollakasim in Van province, is a candidate for trekking and photography, especially in Autumn, as it is busy in summer. Mollakasim Public Beach, which has social facilities such as umbrellas, sun loungers, cafes, parking lots, and changing cabins, is the pride of Van with its blue flag and turquoise waters.
Famous for its Sand: Sarimsakli Beach, Ayvalık, Balikesir
Sarimsakli Beach in Kucukkoy town of Ayvalik district is one of the 31 blue flagged beaches of Balikesir. Spread over approximately 7 kilometers of coastline, the beach is known for its clear and clean waters. Vacationers who want to stay in the surrounding hotels and enjoy the blue flag beach can choose Sarimsakli Beach. Let's also mention that there are camping areas around the beach.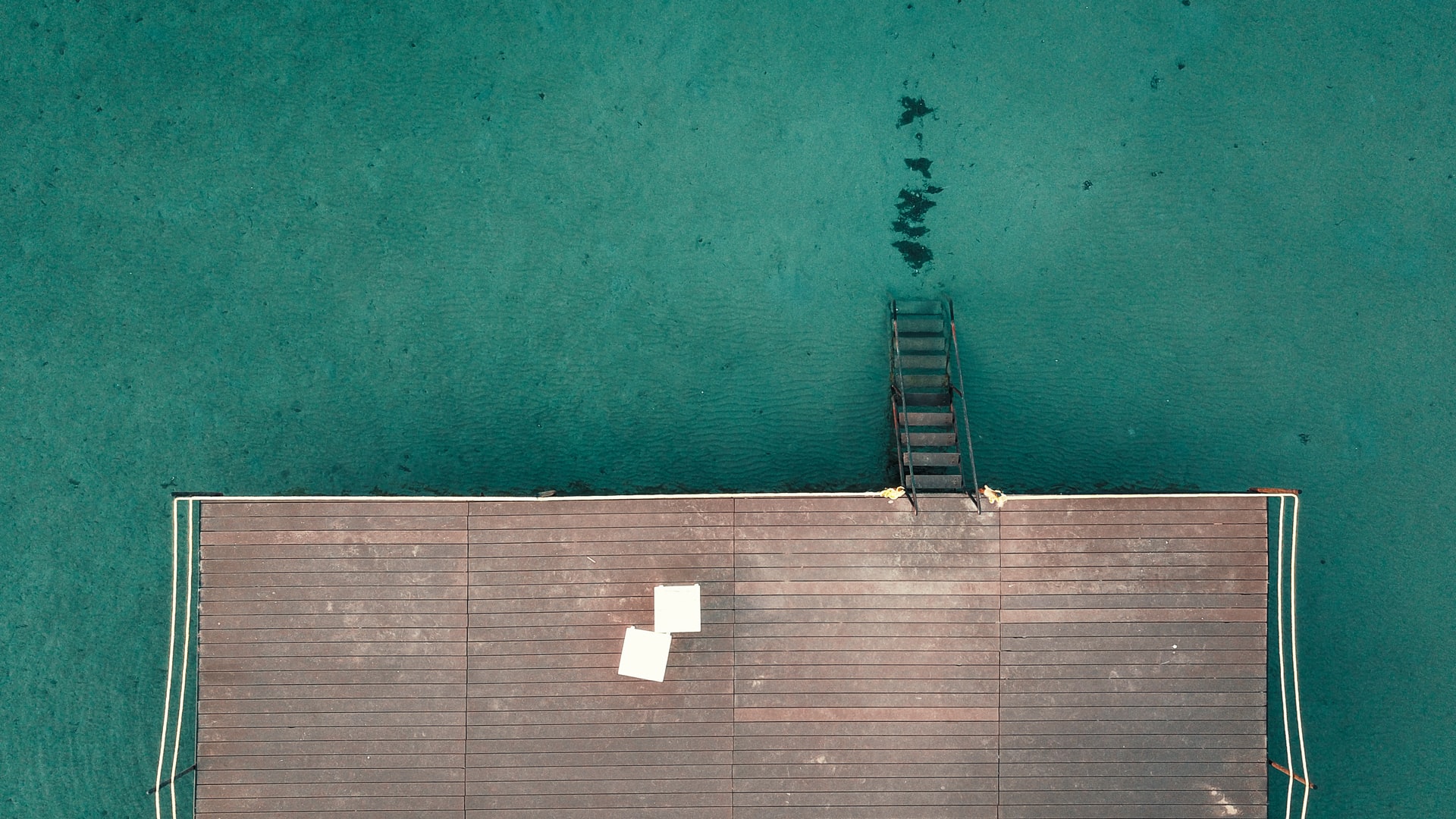 Iodine Smell is Here: Güzelyalı Public Beach, Çanakkale
Güzelyalı Public Beach, which received the International Environment Award-winning Blue Flag, is just one of the 12 blue flag beaches of Çanakkale. The beach, which deserves the blue flag with its clear sea and fresh air, is 20 minutes away from the coastal city of Çanakkale. The entrance to the beach with seating areas and picnic areas is free.
In the Heart of Nature: Kocahasanlı Beach, Erdemli, Mersin
Kocahasanlı Beach, which is very suitable for camping and caravan enthusiasts, is one of the 11 blue flag beaches of Mersin. For those who love the camping holiday concept, there are more than 40 tents and 50 sun loungers. The beach, which has a long sandy beach, has a calm structure. The sea of the beach, where the entrance is free, is ideal for swimming as it does not get deep immediately.
Clean Sea of the City: Ala Kadınlar Beach Sile, Istanbul
Ala Kadınlar Beach, which won the second blue flag after Uzunkum Beach in Şile, is one of the cleanest seas of the city with its green forests and blue sea. While going to Ala Kadınlar Beach, which is the center of attention of local and foreign tourists in summer, do not neglect to visit the forests, waterfalls, coves, groves, and tiny ponds in Şile.