Culture & Travel
19 September 2022

Another beauty of the Mediterranean, Kaş is a popular destination for both local and foreign tourists in summer and winter. Located in the westernmost part of Antalya, the Kaş district has many beautiful places, from Patara Ancient City to Kekova, Patara Beach to Akçagerme Beach. Let's look at the 10 must-see spots in Kaş together.
1. Patara Ancient City
The ancient city of Patara, located between Fethiye and Kalkan, is extremely valuable for Christianity as it is known as the gate of the Xanthos Valley, opening to the sea, historically and as the birthplace of Santa Claus. It was called the capital of Lycia during the Seleucid Kingdom. In the ancient city, which later came under the rule of Rome, there are important structures such as the main street, ancient port, granary, waterways, theatre, Vespasian Bath, and Corinthian Temple. In the past, it was known as a port where grains sent from Anatolia to Rome were stored and as an important Mediterranean trade center. Another important piece of information is that the Lycian League Parliament Building in the ancient city became famous as the first parliament building in the world to remain intact.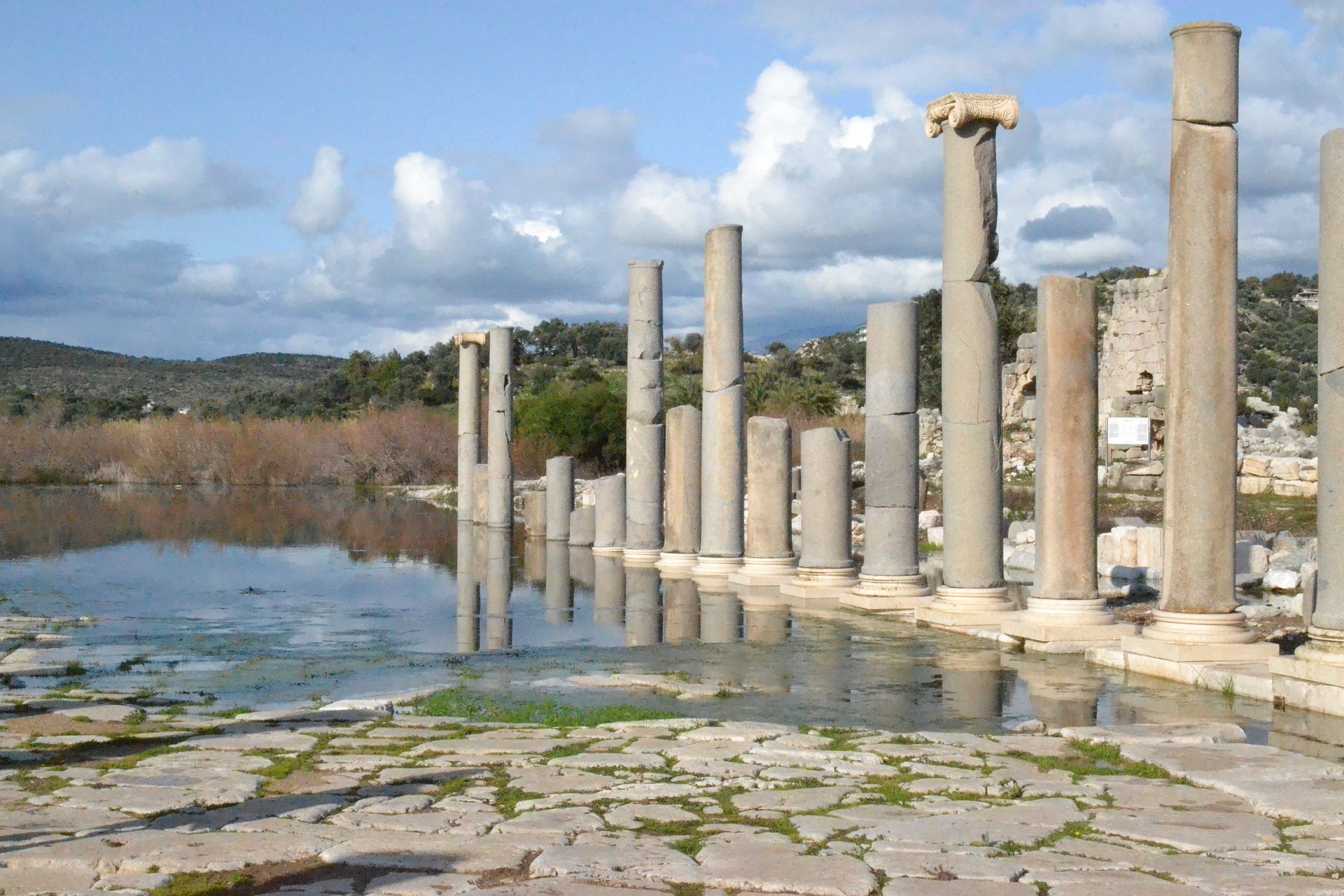 2. Kekova
Kekova Island, which can only be visited by boat, is an island full of uninhabited rocks. Kekova, which is approximately 4.5 km square, can be reached with a 2-hour journey by boats departing from the center of Kaş. There are towers, a chapel, a church, and harbor ruins in Kekova, where ancient ruins are also located. Known as the Sunken City, this area is quite remarkable because some of the ruins were submerged. The island, which also includes ruins from the Roman and Byzantine periods, is one of the places to see when you come to Kaş.
3. Kaleköy (Simena)
Next is Kaleköy, located above the ancient city of Simena, which gives peace to the soul. Transportation is provided by boats departing from Kaş center or Üçağız. In the village, where there are almost 70 houses, the people live among the ruins of the ancient city. Keep in mind that Kaleköy has been declared a first-degree protected area, and the construction is under control. In the village, hostels and restaurants are also waiting to welcome their guests. Never go back to Kaleköy without eating homemade ice cream with products such as peaches, hazelnuts, and bananas.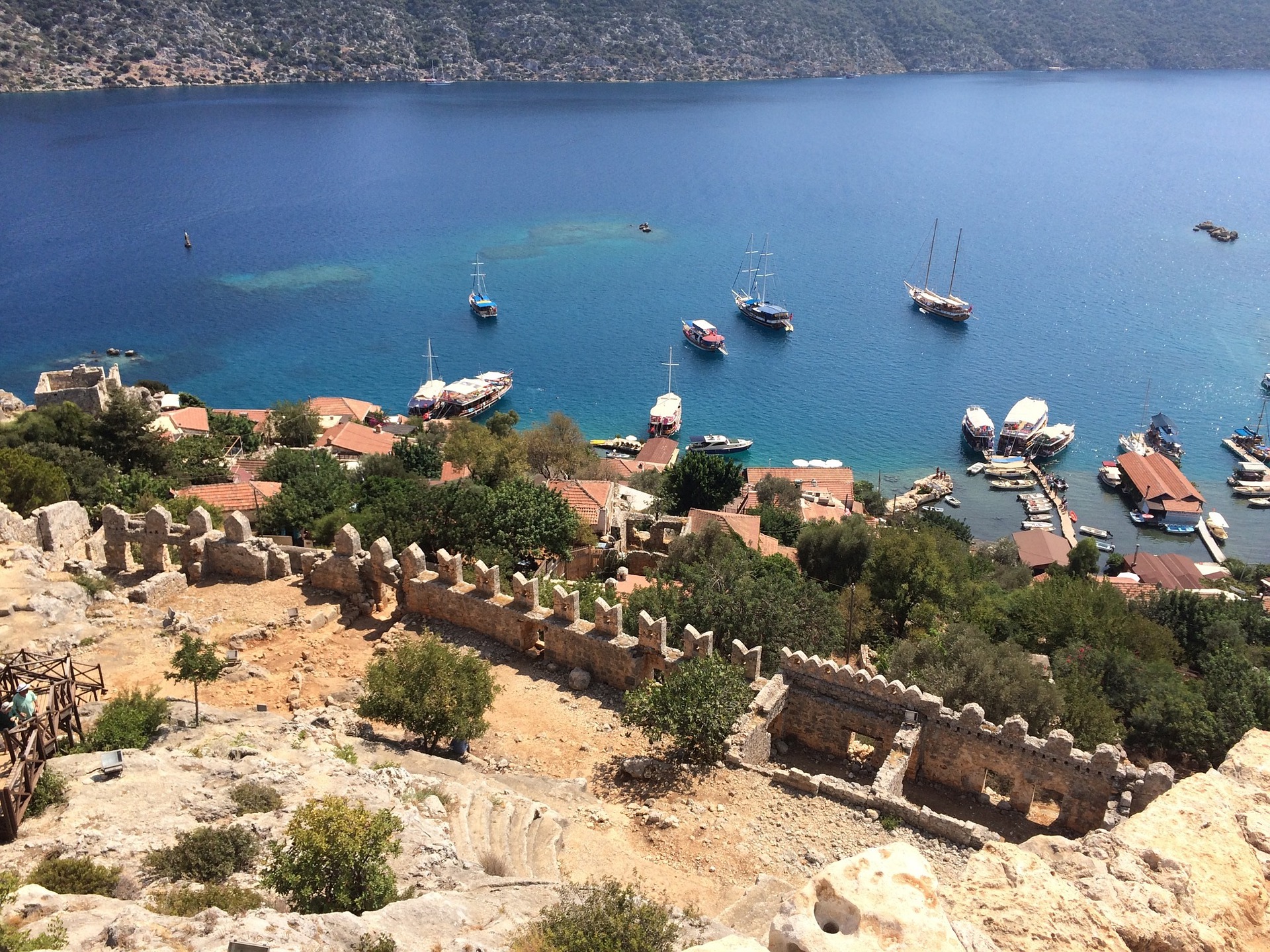 4. Akçagerme Beach
Akçagerme Beach, near Kaş, has a clean sea with a blue flag. Let's also mention that it's a facility operated on the beach. There are many alternatives on the beach where you can do sports such as volleyball, basketball, beach volleyball, tennis courts, amphitheater, pool, and slides. There are also Caretta Caretta Sea Turtles on Akçagerme Beach, where you will find peace in the waters, and this area is their natural habitat, just like Dalyan. It's possible to rent sun loungers and umbrellas on the beach, which has free access as a public beach.
5. Patara Beach
Patara Beach, which draws attention with its length of approximately 12 kilometers, takes its rightful place in the list as one of the longest beaches in the world, with a width of 1,500 meters. Patara Beach is a beach that should be seen and immersed in the sea by every tourist, regardless of local or foreign, with its pale-yellow sand, deep blue, and clean sea. Patara Beach, which should be seen once in a lifetime with its sea that gives the feeling of eternity and its nature that relaxes people, is 43 kilometers away from Kaş district. Come on to the sea!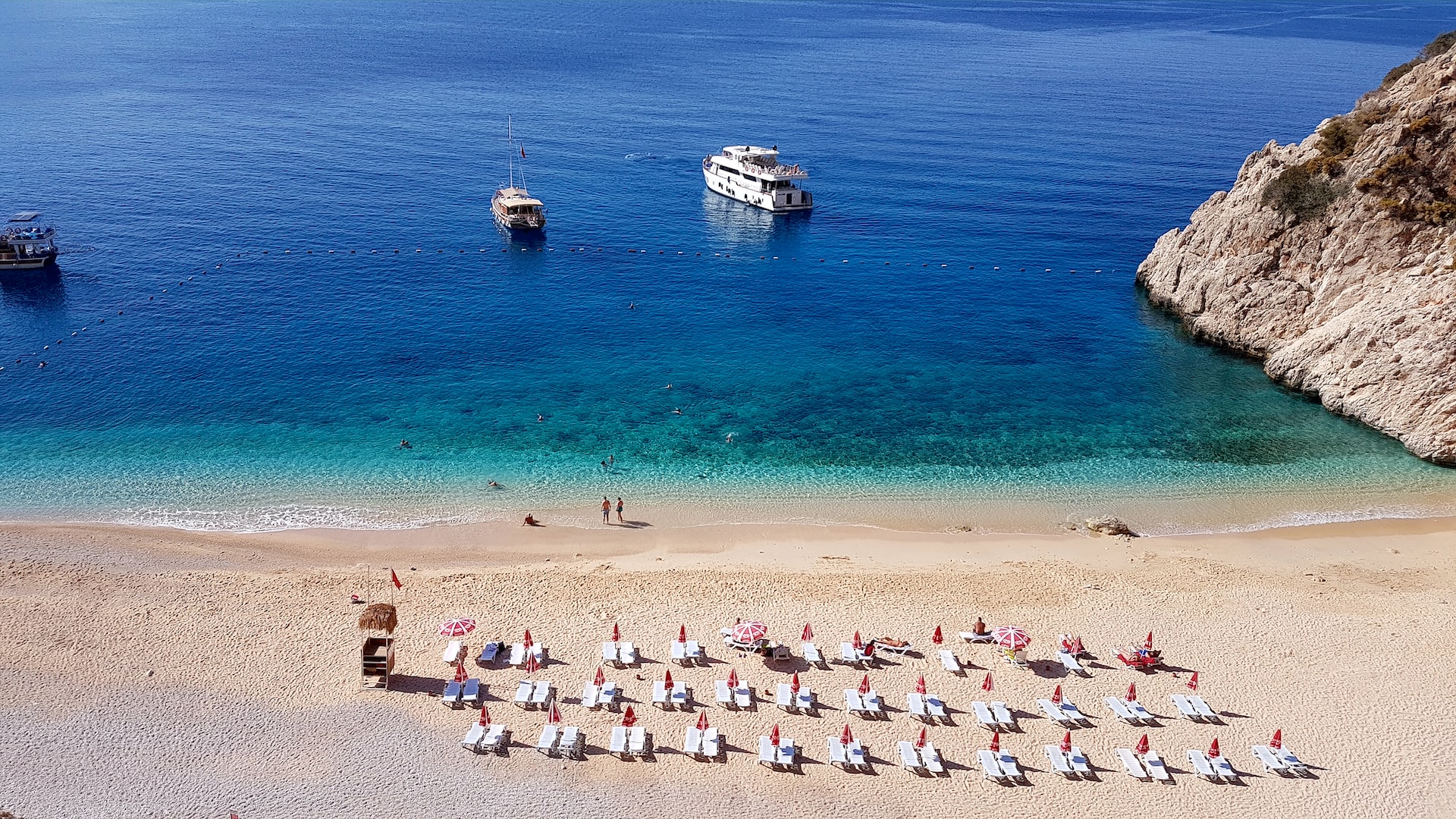 6. Antiphellos Ancient City
Antiphellos Ancient City, valued as a port city during Roman rule, draws attention as one of the old settlements of the Lycian Region. The sea-facing face of the Ancient Theater is worth seeing, and history and the sea come together to greet their guests with love. It's possible to see valuable structures such as the cemetery, the necropolis area, the Long Bazaar, the King's Tomb, sarcophagi, water systems, and temples in the Antiphellos Ancient City near the theater.
7. Kaş

Municipality Bazaar
With its cobbled roads, shops where local products are sold, and souvenirs to immerse yourself in, Kaş Municipality Bazaar is one of the must-visit spots when you're in Kaş. Who wouldn't want to give presents to your loved ones from Kaş on the way home! Lycian carpets, wooden carved figures, designer clothes, handcrafted jewelry, and handmade glass products, which you can buy from wooden houses and shops on the street, are among the things you should buy before returning. Although you do not need these to remember Kaş, taking them as a souvenir is recommended.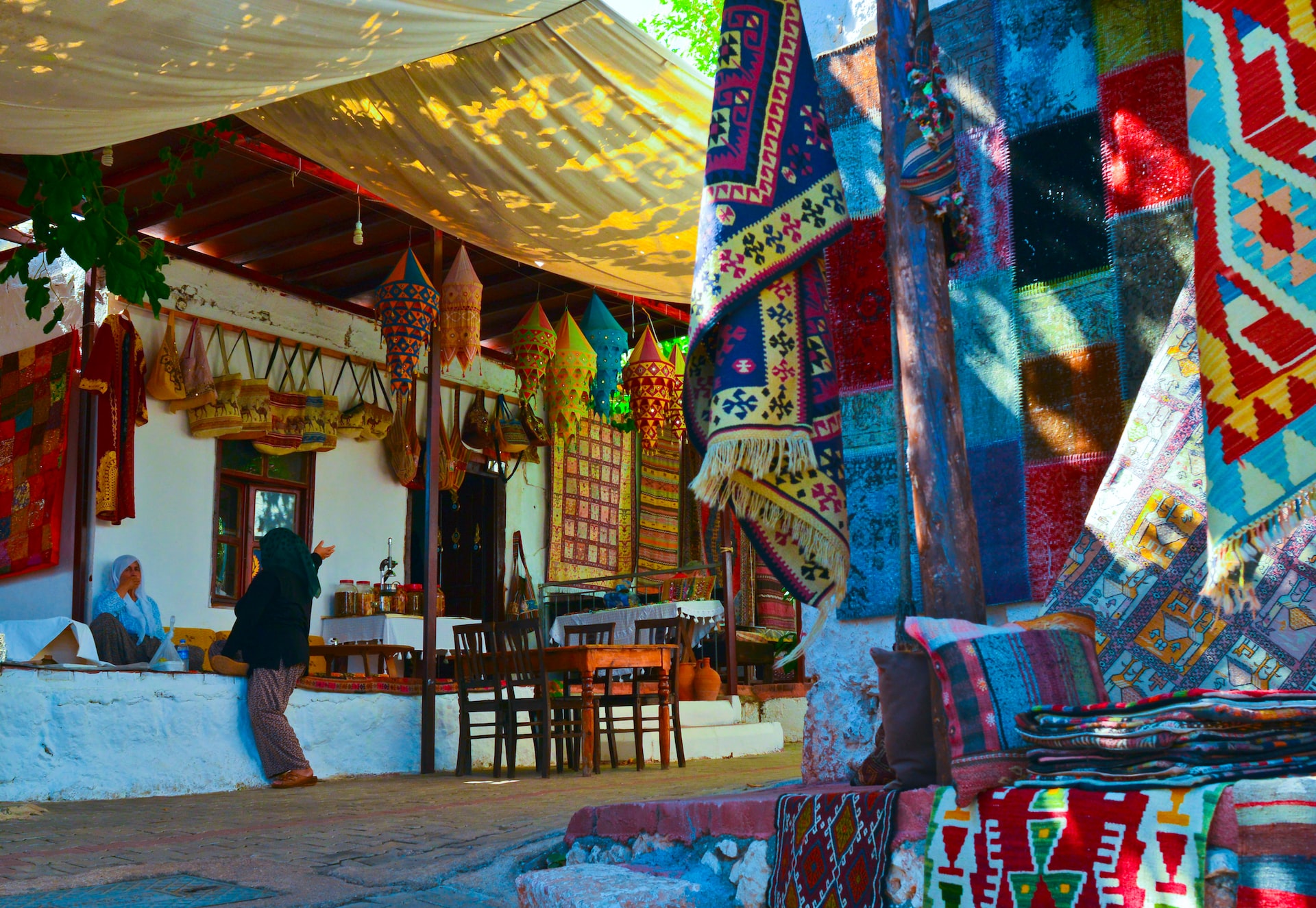 8. Kalkan
It is never acceptable to come to Kaş and return to the city without seeing Kalkan. Kaş and Kalkan are a very solid duo that goes together. Every traveler, every travel writer, and every real tourist knows this. The shield leg of these two, who never separated, is a beauty that won't be forgotten for life. Especially the villa-type houses where you will stay in Kalkan create unforgettable views with their nature and magnificent view. It should be noted that Greece is right across the island of Meis.
9. Kaputaş Plajı
We think no one has not heard of Kaputaş Beach. Kas's indispensable beauty canyon mouth beach is worth seeing. Kaputaş Beach, with its turquoise sea, swimming pleasure with a canyon view, and mystical atmosphere that makes you forget the stress of the city, is an important spot to be seen when you come to Kaş. Let your eyes see the beauty of nature! You don't have to be in Hawaii or Miami for dreams; Kaputaş will make you experience this beauty.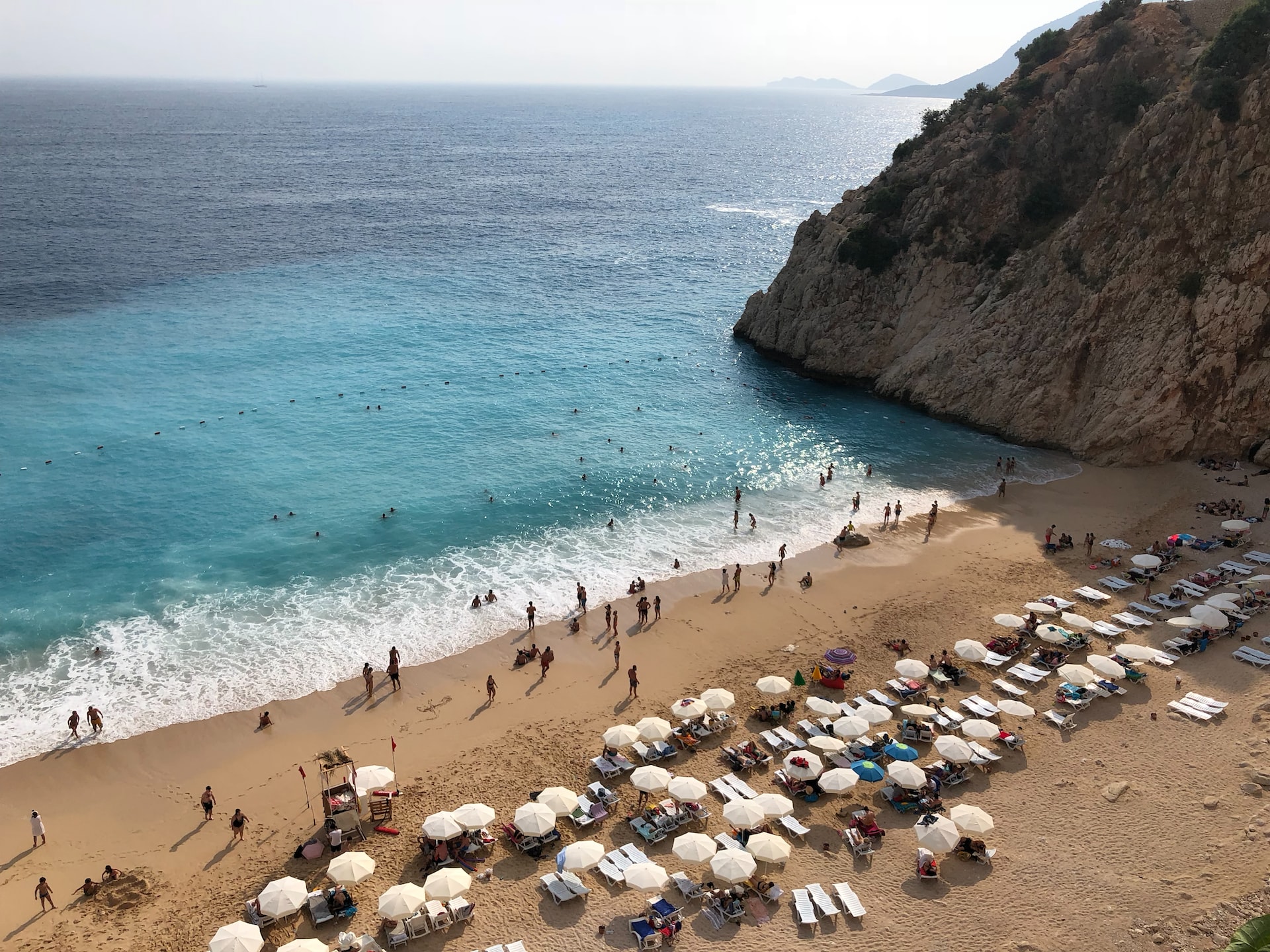 10.

Exquisite Bays to Go with Boat Tours
When it comes to Kaş, beautiful and private coves and beaches come to mind. Turquoise waters, yellow sands, calm and peaceful beaches, and uninhabited areas immediately take all its guests under its influence. Let's add a few coves to our article where you can enjoy boat tours: Hidayet Cove, covered with olive trees; Karalos (Snail) Cove, which hosts boats that stand as if they're not on the sea, Limanağzı Cove, where you can admire its calmness, Tersane Cove, which is a frequent destination for boats, and one of the must-see blue spots, comes first.