Food
20 March 2023

Breakfast culture is just as beautiful and important in İzmir, which is so beautiful with everything. In İzmir, one of the most wonderful cities of Turkiye, you can have the opportunity to have breakfast next to the sea along the Kordon or in the green, where you will be one with nature. Here we recommend you the best breakfast places in İzmir where you can have delicious breakfasts.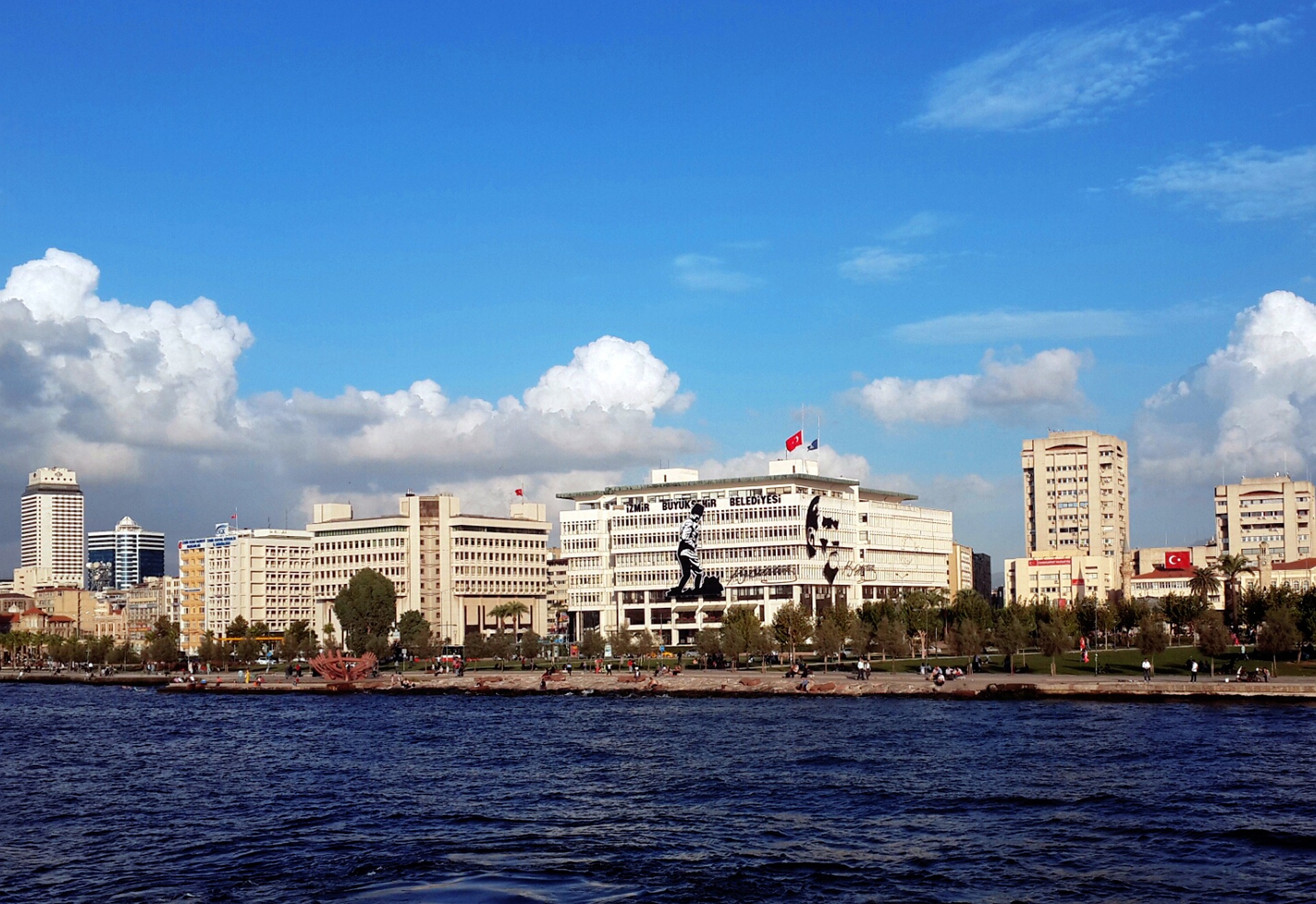 Morisi Kahvaltı
Morisi Kahvaltı, which has branches in Bostanlı, Mavişehir, and Alaçatı, has been offering delicious breakfasts to its customers since 2015. Cheese plates consisting of various types of cheese such as feta cheese, tulum, and çeçil cheese, olive plates with various flavors such as grilled olives filled with cheese, bagel, spring rolls, pies with zucchini or aubergine, and many kinds of vegetables for breakfast are just some of the products offered at Morisi Kahvaltı. There are also different recipes here. There are even jams, such as watermelon jam, that you may not have the opportunity to buy yourself. The place, which also has vegetarian-friendly breakfast options, is one of the most suitable places in Izmir to have a hearty breakfast at the weekend.
Tuzu Biberi Kahvaltı Evi
Tuzu Biberi Kahvaltı Ev, which has 11 branches including Alsancak, Balçova, Bayraklı, and Bostanlı since 2009, is one of the favorite breakfast places in İzmir. Among the products you can eat for breakfast are white cheese, tulum, cheddar cheese, fenugreek, different kinds of jams, honey cream, and cold cuts for breakfast. If you wish, you can order other products such as omelets, menemen, and paçanga pastry. Vegetarian and vegan options are also available here. You can also have brunch and lunch in the place, which attaches great importance to natural flavors and local flavors.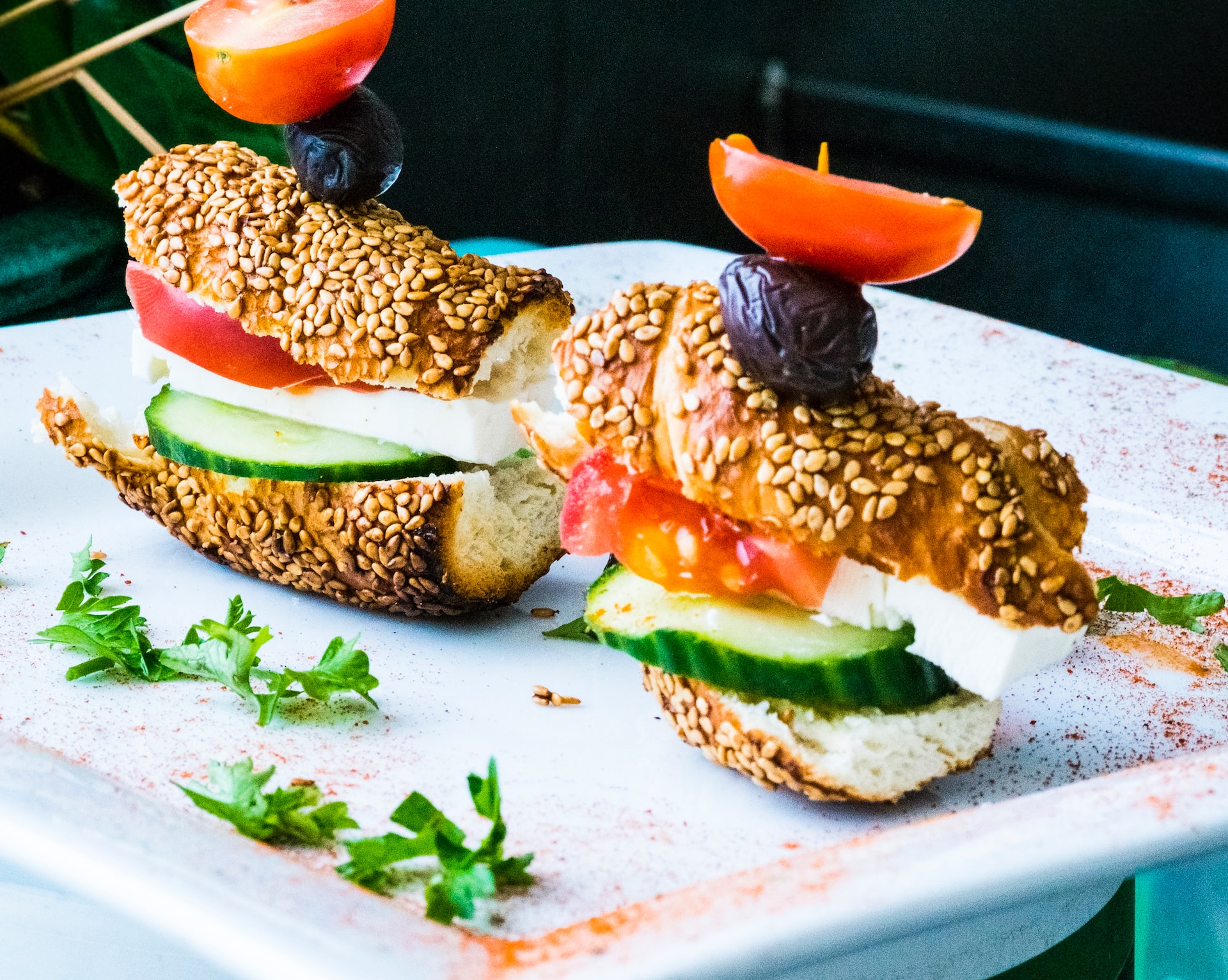 Aktuğ Köy Kahvaltısı
It would not be wrong if we say that Çiçekliköy is famous for its breakfast. There are many breakfast places here. Aktuğ Köy Kahvaltısı, located in Bornova Çiçekköy, is just one of these famous İzmir breakfast restaurants. This is definitely a place where you can be alone with nature and has a delicious breakfast. You can visit the place except for Tuesdays, and you can eat a bagel, mıhlama, various cheese and olive plates, all kinds of jams, eggs with sausage, French fries, and even wrap. A breakfast awaits you in the middle of the greenery, especially at the breakfast place where the family can come and have breakfast.
Tereci Yöresel Bakkal Kahvaltı
There are many delicious products you can eat at Tereci Yöresel Bakkal Kahvaltı located in Karşıyaka Mavişehir. Compared to other places, you can choose your own food here, so the variety is quite plentiful. Among the products you can eat, there are many kinds of olives, from black olives to pepper-stuffed olives, and even olive salad, cheeses from other cities, homemade apricots, figs, tangerines, walnuts, and many more jams, butter, and yogurts. You can even try the kebabs of the place while you are there. Having breakfast in a place where the place and atmosphere is very family-friendly and decent will be a different experience for you.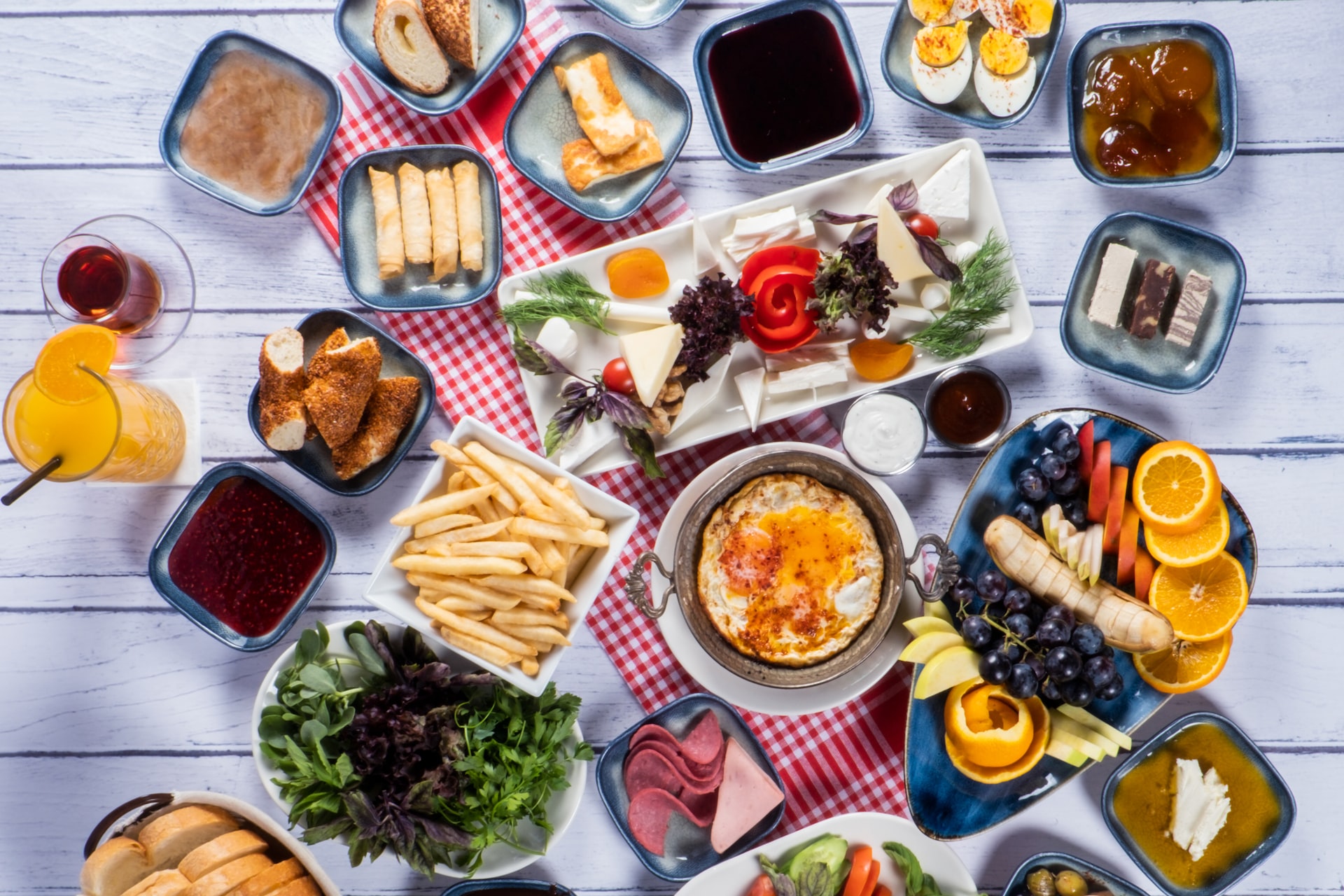 Proof Breakfast Brunch
Proof Breakfast Brunch opened in Karşıyaka Bostanlı does not focus on Turkish cuisine that much compared to other venues. The cafe, which mostly includes French and American cuisines, has varieties such as avocado toast, French toast, American sandwiches, bread toppings made from different loaves of bread, pancakes, cheese-olive and fruit plates, croissants, omelets, and eggs benedict. If you want, smoothies and vegan bowls are also options for customers who have adopted a vegan lifestyle. Being large and spacious enough will also take your breakfast experience to the next level.
Asmalı Kahvaltı Evi
Another breakfast spot in Bornova Çiçekköy is Asmalı Kahvaltı Evi. The products you can eat in the sprinkled breakfast menu are as follows: tulum cheese, feta cheese, tomato-cucumber plate, homemade fenugreek, herb cheese Bosnian pastry, water pastry, fig and eggplant jam, butter, honey-cream, dried tomato seasoning, sourdough village bread, and unlimited tea. The place, which offers a very warm atmosphere inside, fascinates with the green landscape of Izmir outside. Outside the venue, there is also a playground for children. Therefore, this is a very suitable breakfast room for families with children.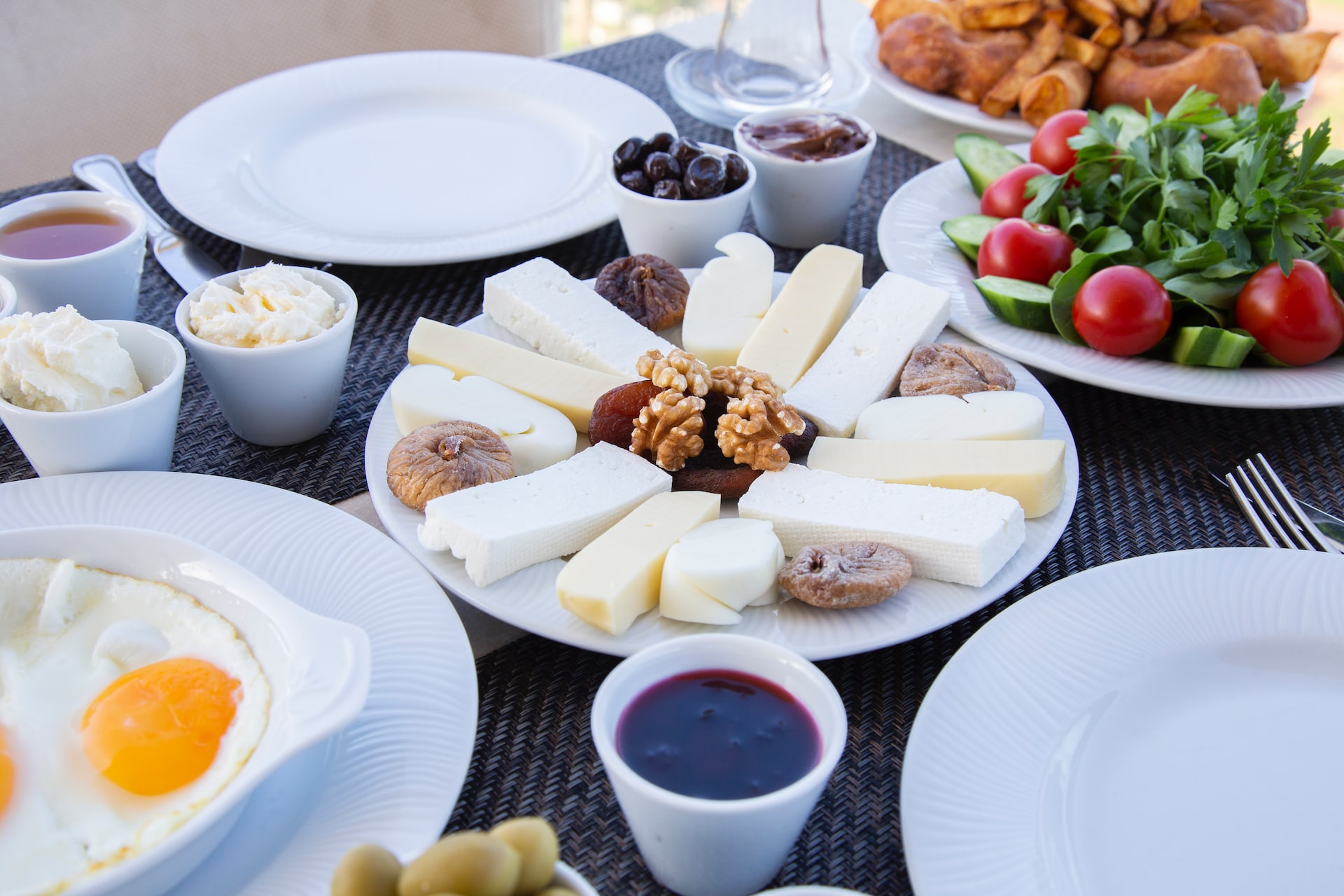 Nirvana Kahvaltı Salonu
Another breakfast destination in Çiçekköy is Nirvana Kahvaltı Salonu. This place is open every day. Although you do not need to make a reservation during the week, it is recommended to make a reservation as it is quite crowded on the weekend. Among the products, you can find on the breakfast menu are two kinds of cheese, two kinds of olives, tomato-cucumber-pepper platter, fenugreek, jam varieties, curd dessert with local black mulberry, şakşuka, flatbread, bagel, spring rolls, dried tomatoes, cottage cheese, village bread, egg with potatoes, and unlimited tea. If you want, you can also drink Turkish coffee after breakfast. Here you can celebrate special occasions such as birthdays. Another nice feature of this place, apart from the delicacies, is that you can have breakfast outside. You can experience a picnic-like breakfast nestled in nature among the greenery.
Moresi Eskiköy – Girit Mutfağı 

(Cretan Cuisine)
Located in Konak and Alaçatı, Moresi Eskiköy is a breakfast room that fascinates with its warm atmosphere. However, if you want to go here, please pay attention to the name; otherwise, you can go to the breakfast place we mentioned above in Bostanlı. The menu is quite extensive, so it is not difficult to find something for every taste. The mixed breakfasts of the place include cheese and olive plates, seasonal jams, breakfast sauces special to Moresi, orange butter, mucver, cold cuts for breakfast, zucchini spring rolls, and fruit. If you want, you can order chocolate pancakes or an omelet with cream cheese, mushrooms, and cheddar. There are dozens of different types of pancakes and eggs; try ordering one that suits you.