Culture & Travel
10 October 2022

Uçhisar has the most magnificent view of Cappadocia and a peaceful atmosphere. Exhibiting its beauties as on the skirts of the rock, which is 40 meters high from the place where the fairy chimneys are, Uçhisar offers a visual feast to its visitors. A unique sunset view that will make you ecstatic is waiting for its guests who go to see Uçhisar, which is connected to the province of Nevşehir, with its beauty and astonishing magic.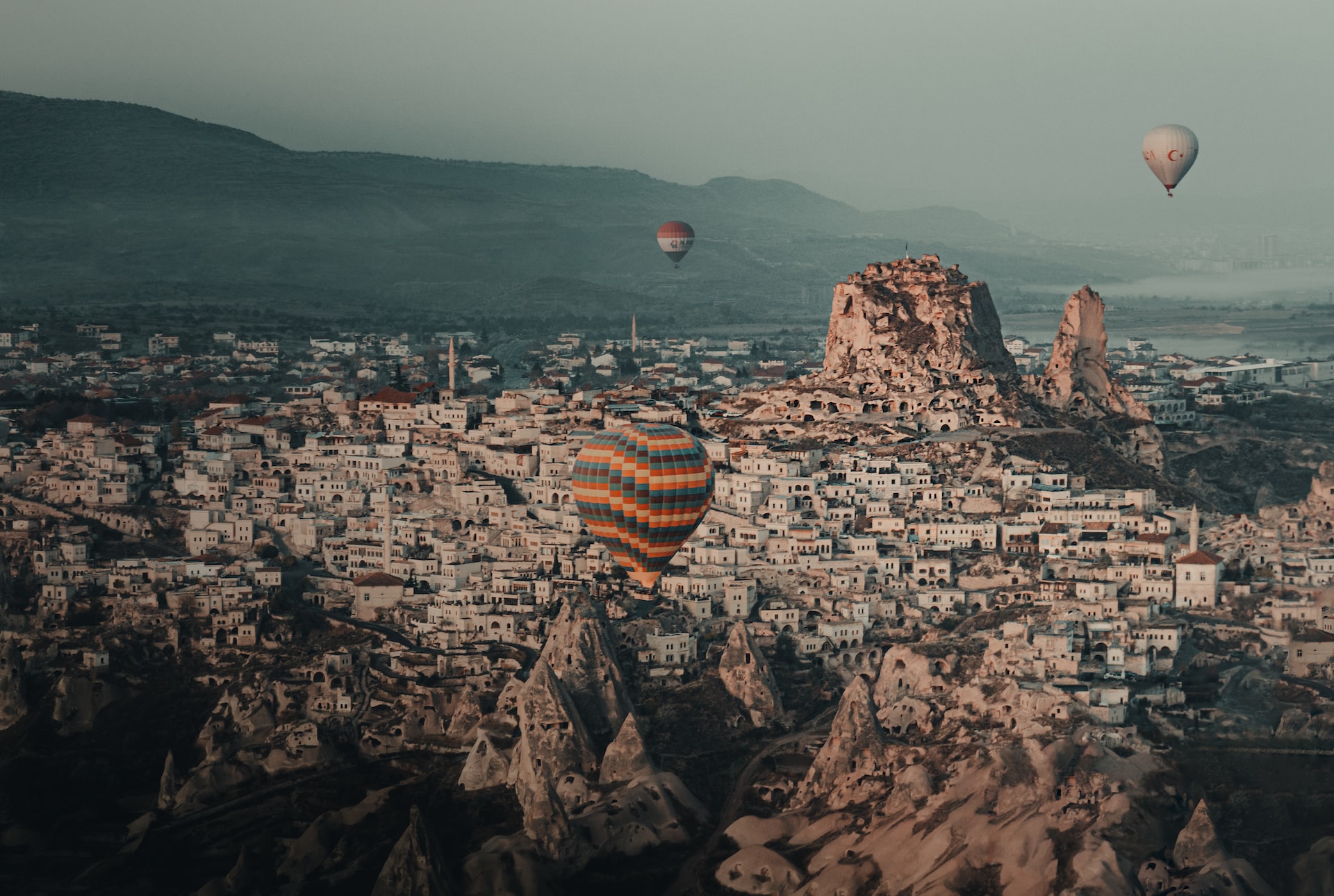 Features of Uçhisar
Uçhisar, which is mind-blowing with its magnificent view, is definitely among the places to be seen. With its colorful houses and clean air, Uçhisar is one of the must-visit places at the top of the traveller's list, and is one of the lifebloods of Cappadocia in terms of tourism. Almost reminiscent of a movie scene and setting, Uçhisar is one of the places that should be flooded with tourists in our country. The region, which is settled on the skirts and lower parts of a giant fairy chimney, has an eye-catching beauty with its Güvercinlik Valley, Uçhisar Castle and stone houses. In addition, this magical region is known as the highest part of Cappadocia and the point where the most visually beautiful fairy chimneys are seen.
Important Places to See in Uçhisar
There are must-see spots for travelers when they come to Uçhisar. Let's take a look at the regions to visit while we're all the way to Uçhisar. From the castle to the museum, from the scenic hill to the valley, every place is the kind that will make you witness the scenery and spirit of Uçhisar. Let's share this pleasure together.
Uçhisar Castle
The Uçhisar Castle, which can be seen from almost anywhere in Cappadocia, is made up of adjacent fairy chimneys. There are carved tombs, carved jars and a large cistern at the top of the castle. The larger of the two pointed fairy chimneys that make up the castle is called "Ağanın Kalesi" and the smaller one is called "Çavuşun Kalesi". Watching the sunset from here is one of the most enjoyable moments of the day.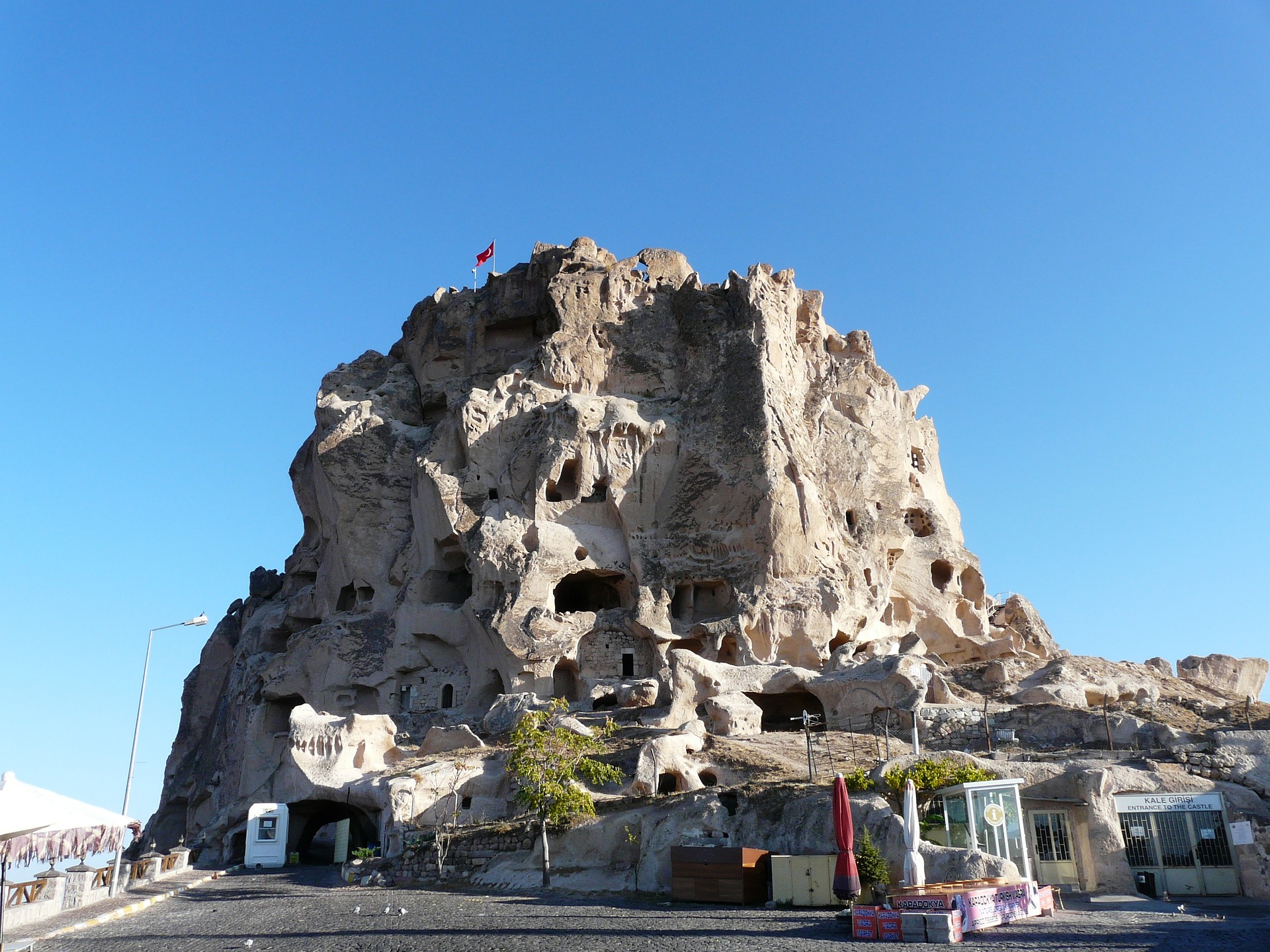 Güvercinlik Valley
The length of the Güvercinlik Valley, located between Uçhisar and Göreme, is around 4,100 meters. Let's not forget that there are areas marked with red in the valley in order to explore the region and to guide the visitors. By the way, it got this name because a large number of pigeons live in the valley.
Göreme Open Air Museum
Göreme Open Air Museum, with fairy chimneys, carved churches and chapels, is located approximately 7 kilometers from Uçhisar. There is no one who comes here and does not feel that they are living the magical history. We can swear that you will hold your breath when you see the frescoes painted on the walls, columns and ceilings. It should be noted that it has been on the UNESCO World Heritage List since 1985.
Salkım Hill Panorama
Salkım Hill Panorama, located on the Uçhisar - Göreme road and 3 kilometers from Uçhisar, continues to fascinate its visitors with its magnificent view. Watch the sunrise and sunset from Salkım Hill Panorama once in a lifetime.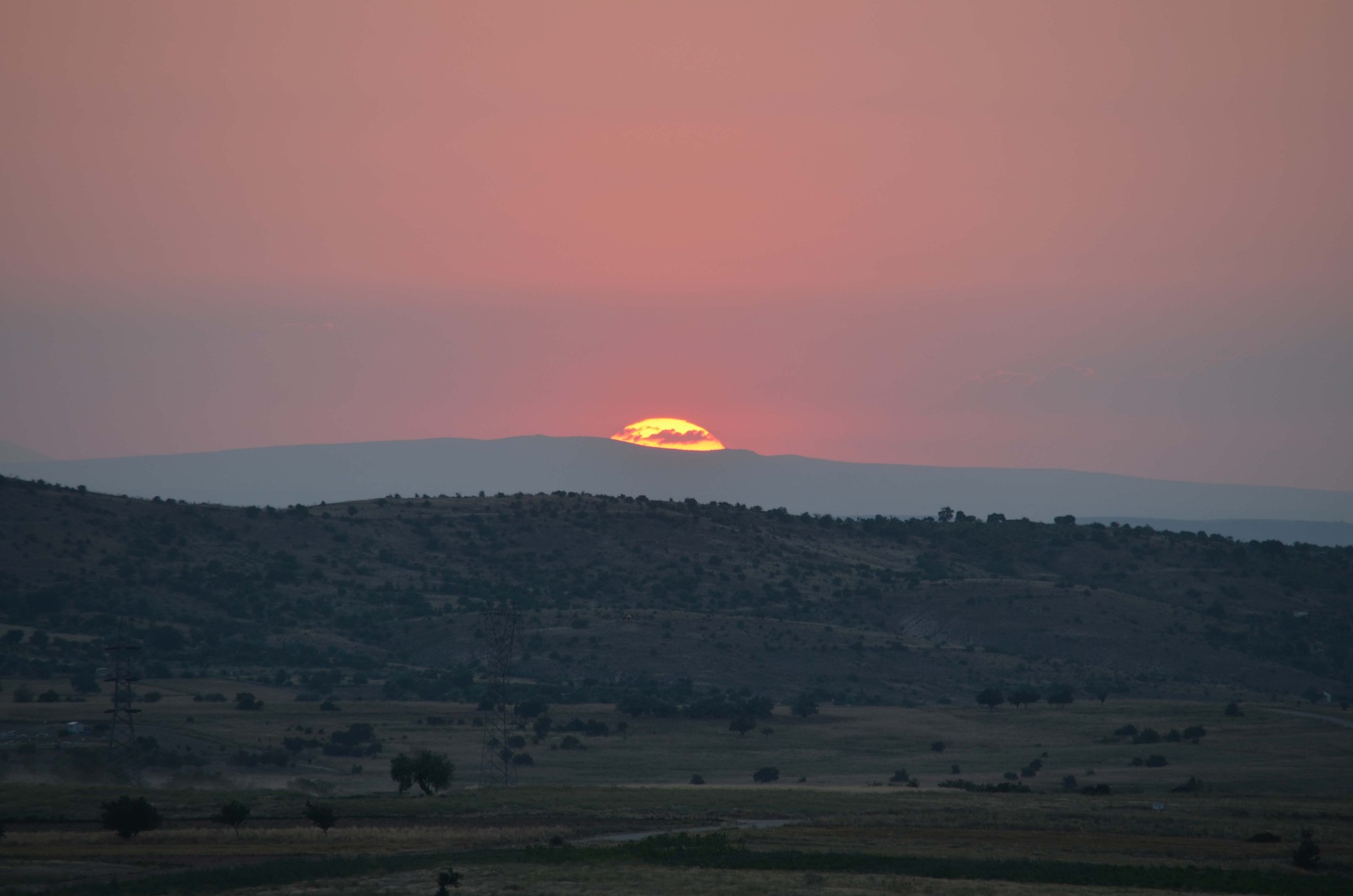 Gifts to Buy from Uçhisar
Hand-woven carpets and rugs, handmade pottery, miniature fairy chimneys, jewelry made of stones and onyx stones, souvenirs made of fountain ceramics, magnets are among the gifts that should be bought in Uçhisar. In addition to these, small and symbolic balloons, which are the symbol of Cappadocia, beautiful amulets, special wooden gifts made with wood carvings, famous Cappadocia wine, unforgettable items you can buy from antique shops, Meatballs known as Anatolian jelly made from Cappadocia grapes, are on the way back. Just some of the gifts that can accompany you.
Things to Do Before Returning from Uçhisar
Do not come back without participating in pottery making in pottery workshops, visiting antique shops, going on a historical journey, watching the balloons in the Uçhisar Castle region, taking a walk among the pigeons in the Pigeon Valley, watching the sunrise or sunset from this castle or Salkım Tepesi Panorama.
Food in Uçhisar is Another Good
It is among the traditional and popular dishes of Nevşehir, Cappadocia and therefore Uçhisar. There are delicious tastes such as test kebab, wedding soup, leaf wrap, Ürgüp Meatballs, Central Anatolia's rich breakfast, lamb shank, stuffed zucchini, grip soup, tray meat kebab, stew made with all kinds of ingredients, dried beans, okra dish, hair pan. Also, never miss the pumpkin seeds and delicious apricots unique to the region.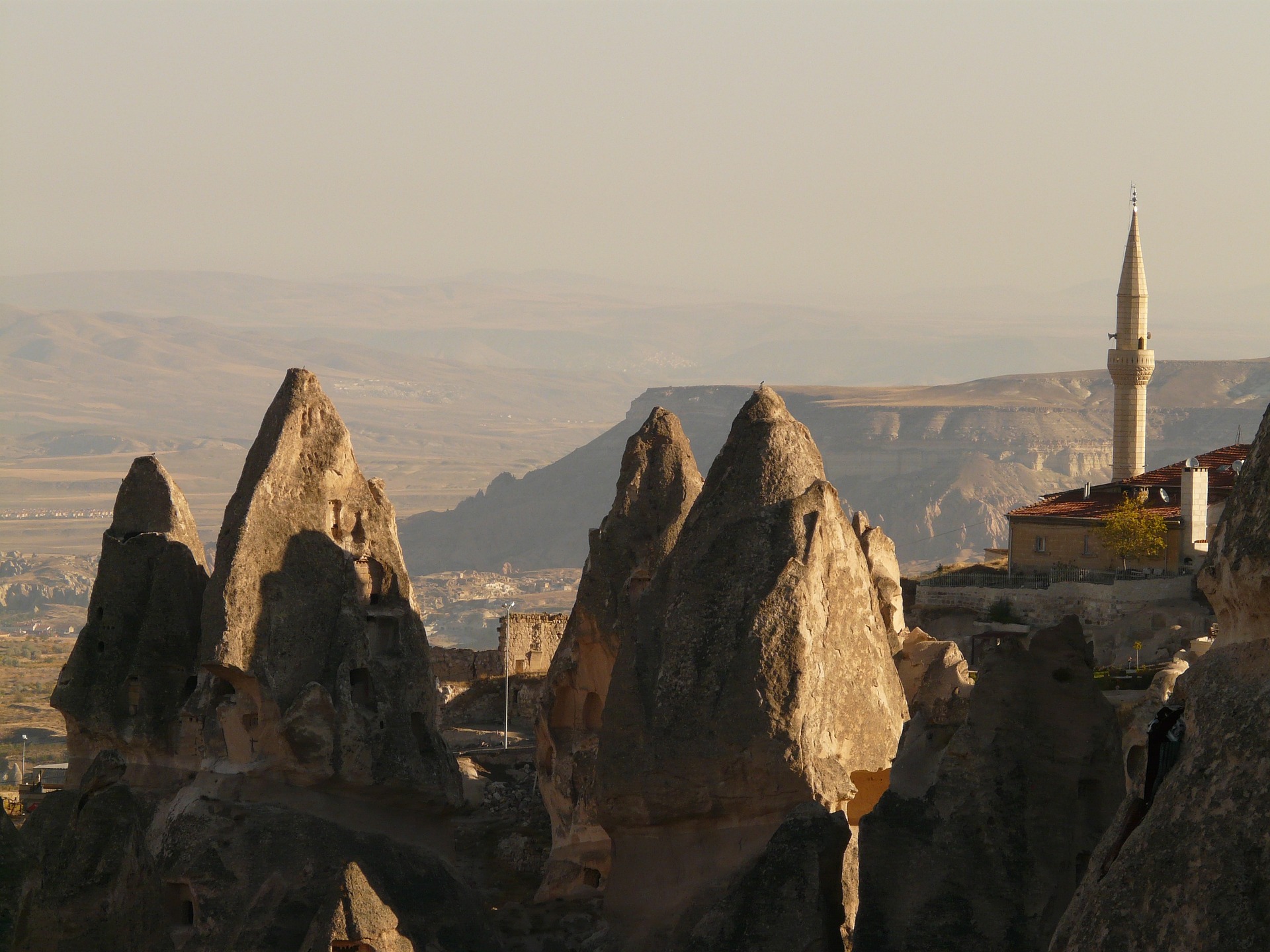 Hotels to Stay in Uçhisar
Glamorous Flavia Cappadocia Hotel with its garden, Uçhisar Kaya Hotel with its magnificent view, Karlık Cave Suite with its glamorous rooms, Dream Of Cappadocia where you can wake up against the balloons, Serenity Hotel close to the center, Zen Cappadocia Hotel where you will love the view, Eyes Of Cappadocia Cave Hotel where you will admire the decorations, Peristyle Cave Cappadocia with its peaceful environment, Helike Cave Hotel with its stone houses are just a few of the hotels close to Uçhisar.
Transportation to Uçhisar
If you are coming from distant cities, you can use the flights to Nevşehir Airport to go to Uçhisar, which you will never forget when you watch the sunrise. To get to Uçhisar, which is approximately 36 kilometers from the airport, you can first go to Nevşehir center by shuttles. It should be noted that you can reach Uçhisar from Nevşehir by bus. In addition, in Uçhisar, which is 14 kilometers away from Ürgüp, it is used by bus for urban transportation.
Brief History of Uçhisar
First of all, Cappadocia and Uçhisar, which joined the UNESCO World Heritage List on December 6, 1985, joined the extraordinary natural and cultural heritage list. Uçhisar, which is one of the 3 castles that dominate the Cappadocia region, took this name because of its location as it was at the far end of the region. Uchisar, which controlled the Persian Period King Road and the Seljuk Period Silk Road, has managed to be an important location throughout history.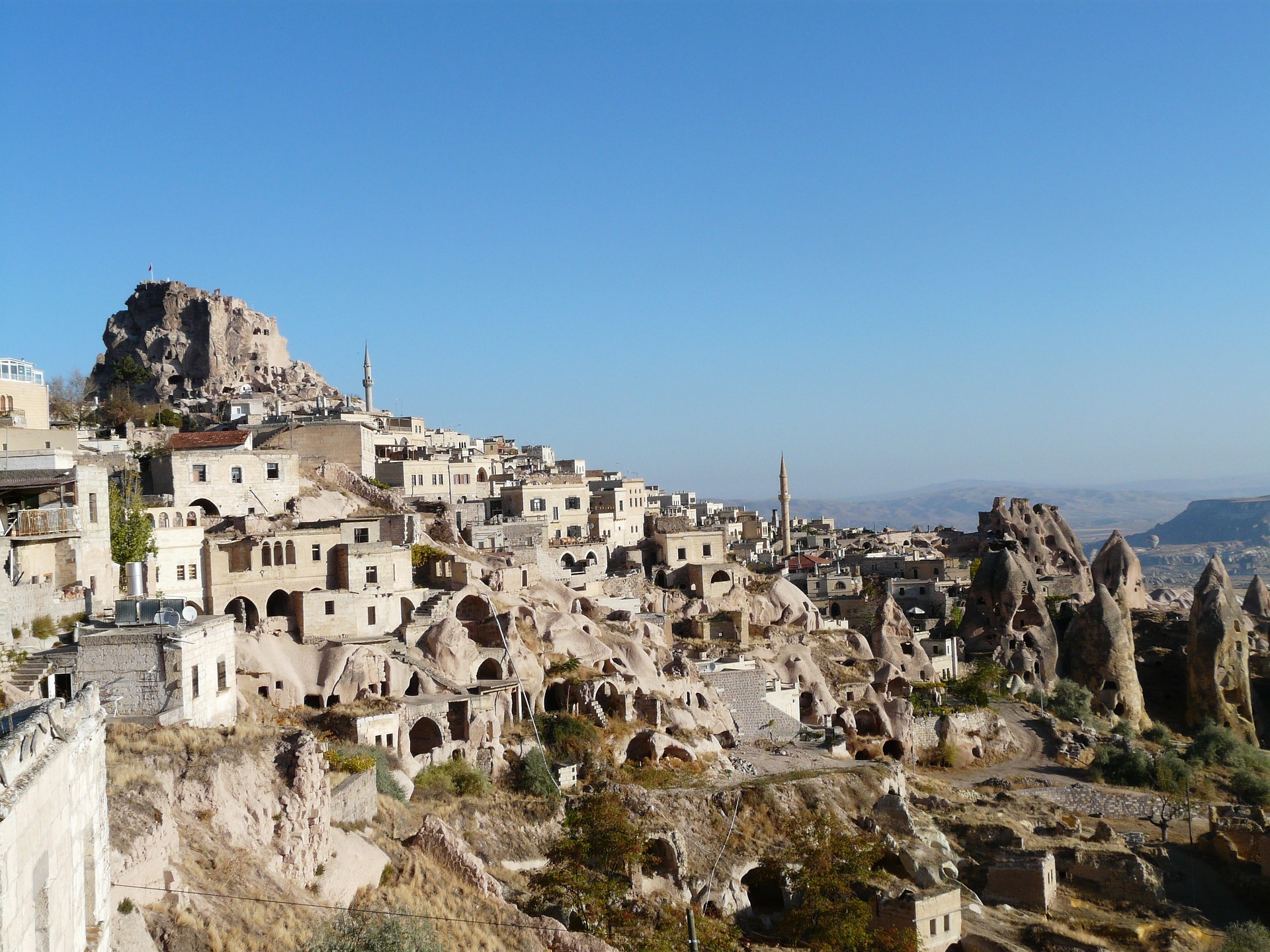 What to See near Uçhisar
Let's list some of the places to see around Uçhisar, which is close to Nevşehir, Cappadocia and Göreme: Göreme National Park, which was included in the UNESCO World Heritage List in 1985, Lovers Valley, which is 5 kilometers away from Uçhisar and has one of the most vital atmospheres of the region, It is one of the must-see spots when you come to Uçhisar.