Culture & Travel
11 October 2021

Abant

Abant Lake is definitely one of the natural beauties identified with the city of Bolu. Lake Abant, which can be said to be the most popular tourist attraction of the city, is a reservoir and benchmark lake formed on the Abant Mountains, 34 kilometers southwest of Bolu. There are many hills from 1400 to 1700 meters in the nature park, which was established around Lake Abant, which preserves its unique beauty at all times of the year. The lake, which covers an area of 127 hectares, is 1328 meters above sea level. While the surroundings of the lake attract attention with its unique nature and plant diversity, it was protected as a nature park in 1988. The depth of Lake Abant, which is also fed by underground waters, is 18 meters. The Lake Abant Nature Park, which is among the first places to be seen by many visitors to the city, is ideal for both daily visits and accommodation. Scotch pine, larch, oak, beech, poplar, juniper, willow, ash, oak, hornbeam, and many other tree species welcome you around the lake. A wide variety of animals can also be seen in the dense forests around the lake. There are also various activities to be done around Lake Abant, which enchants with its unique natural beauties. Visitors can tour around the lake by cycling, visiting a nature museum, camping, hiking, picnicking, sportive angling, and horseback riding. There is bungalow-type accommodation as well as 5-star hotels as accommodation options around the lake.


Yedigöller

The area of 1642 hectares, 42 km north of Bolu, was taken under protection as a national park in 1965. Yedigöller basin consists of seven lakes lined up at a distance of 1.5 km from north to south, which are İncegöl, Nazlıgöl, Küçükgöl, Deringöl, Seringöl, and Büyükgöl. Büyükgöl, the largest lake in the basin, is used for trout farming. The trout breeding station established here in 1969 is the first station established in Turkey. The Yedigöller National Park, where there are many plant species, is one of the important scientific research centers. In addition to many tree species such as hazelnut, linden, hornbeam, oak, beech, alder, and maple, there are also many animal species such as squirrel, pig, roe deer, deer, marten, fox, partridge, bear, and wolf. This park is one of the most beautiful addresses for picnics, trekking, camping, sports, and photography with its calm and peaceful structure and fascinating nature. The best time to visit Yedigöller is between April and November. For interested visitors, there are bungalow houses with 72 beds consisting of 18 units in the park.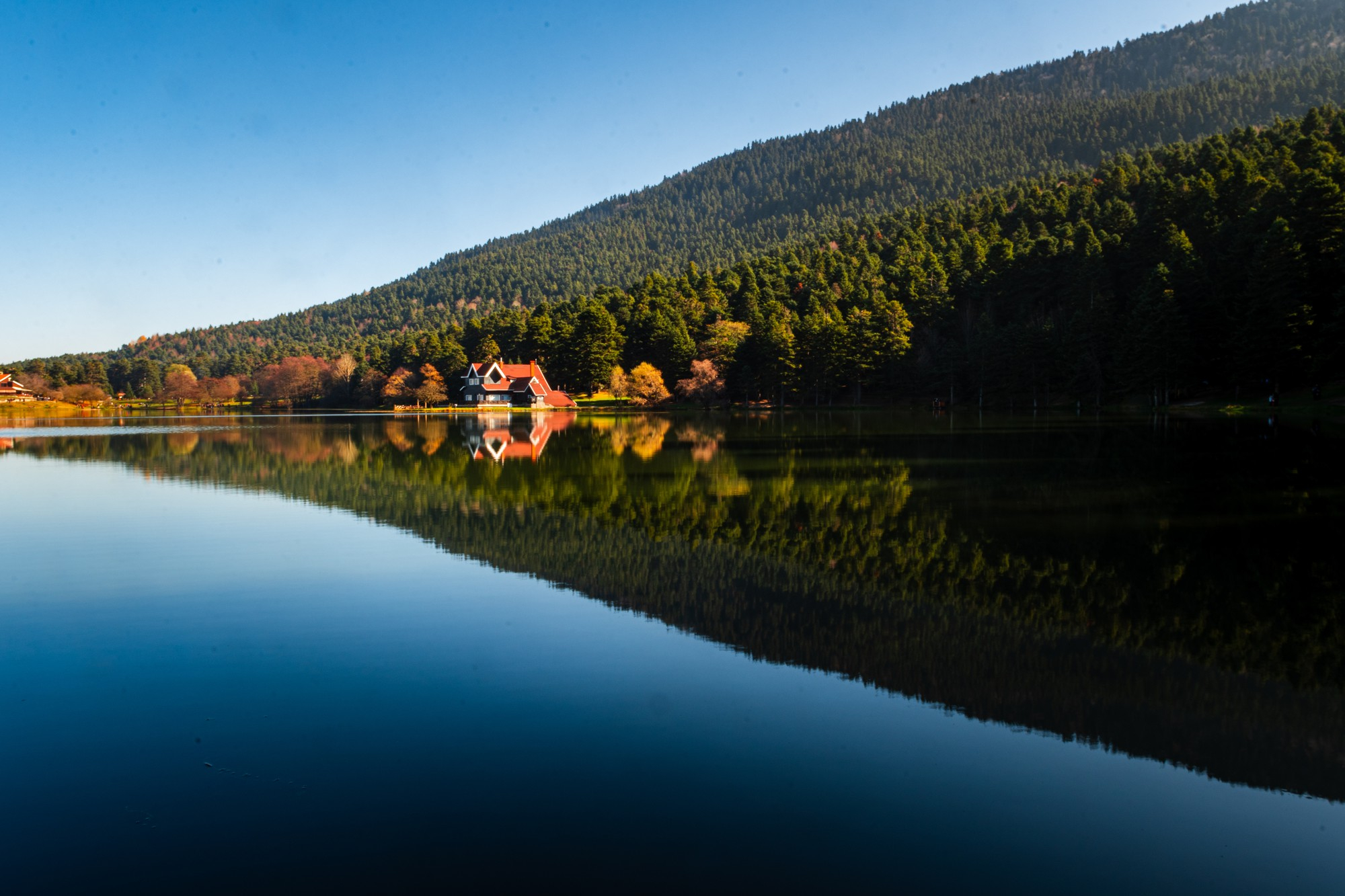 Gölcük
The Gölcük Nature Park, 13 km from the city center, is an area worth seeing in all seasons, accompanied by various trees from hornbeam to beech. Located next to the unique beauty of the lake, the State Guesthouse draws attention with its cute outlook. There are also structures such as restaurants, cafes, prayer rooms, and bungalows by the lake. You can take pleasant walks around Gölcük, which preserves its fascinating beauty throughout the year. The Gökcük Nature Park is one of the most visited touristic centers of Bolu, with visitors coming for bicycle tours, sport fishing, and picnics at certain times of the year.