Lifestyle
27 May 2023

Weddings held in rural settings offer a distinct and charming atmosphere that sets them apart from their urban counterparts. These rustic celebrations are characterized by their unique features, enchanting decorations, wholesome cuisine, and delightful entertainment. Embracing the outdoors, rustic weddings are surrounded by the natural beauty of the countryside. Expansive green landscapes, abundant wildflowers, and a vibrant array of colors come together to create a breathtaking backdrop for your special day. Additionally, rustic weddings tend to be more intimate, allowing for a warm and close-knit atmosphere among cherished friends and family members. In this article, you will discover inspiring ideas for embarking on a new chapter of life through a one-of-a-kind ceremony immersed in the captivating allure of nature.

The Enchantment of Nature
A wedding signifies a pivotal moment in a couple's life and should be an extraordinary and unforgettable experience. In recent years, rustic weddings have gained popularity as couples seek a distinctive ambiance and a natural backdrop in contrast to traditional indoor venues. Rustic weddings offer couples a truly unique experience by blending a romantic atmosphere with the splendor of nature.
Rustic weddings provide couples and their guests with the opportunity to create timeless memories amidst the breathtaking beauty of the natural world. These outdoor celebrations exude a sense of romance, accompanied by awe-inspiring vistas. It is truly indescribable to have your wedding ceremony under the gentle warmth of the sun or the twinkling stars above... Moreover, capturing wedding photographs in the soft glow of natural light will leave a lasting impression.
Selecting the Perfect Venue
Undoubtedly, choosing the ideal venue is one of the most significant decisions when planning a wedding. For country weddings, various options can be explored to create a rustic atmosphere that perfectly complements the theme. Gardens, farms, woodlands, and even open fields can serve as charming country wedding venues. The key is to find a spacious location where guests can move around freely and fully immerse themselves in the beauty of nature. Additionally, it's essential to consider areas suitable for outdoor activities, ensuring a delightful experience for everyone. When making your venue selection, prioritize the comfort and accessibility of your guests, ensuring their ease and enjoyment throughout the celebration.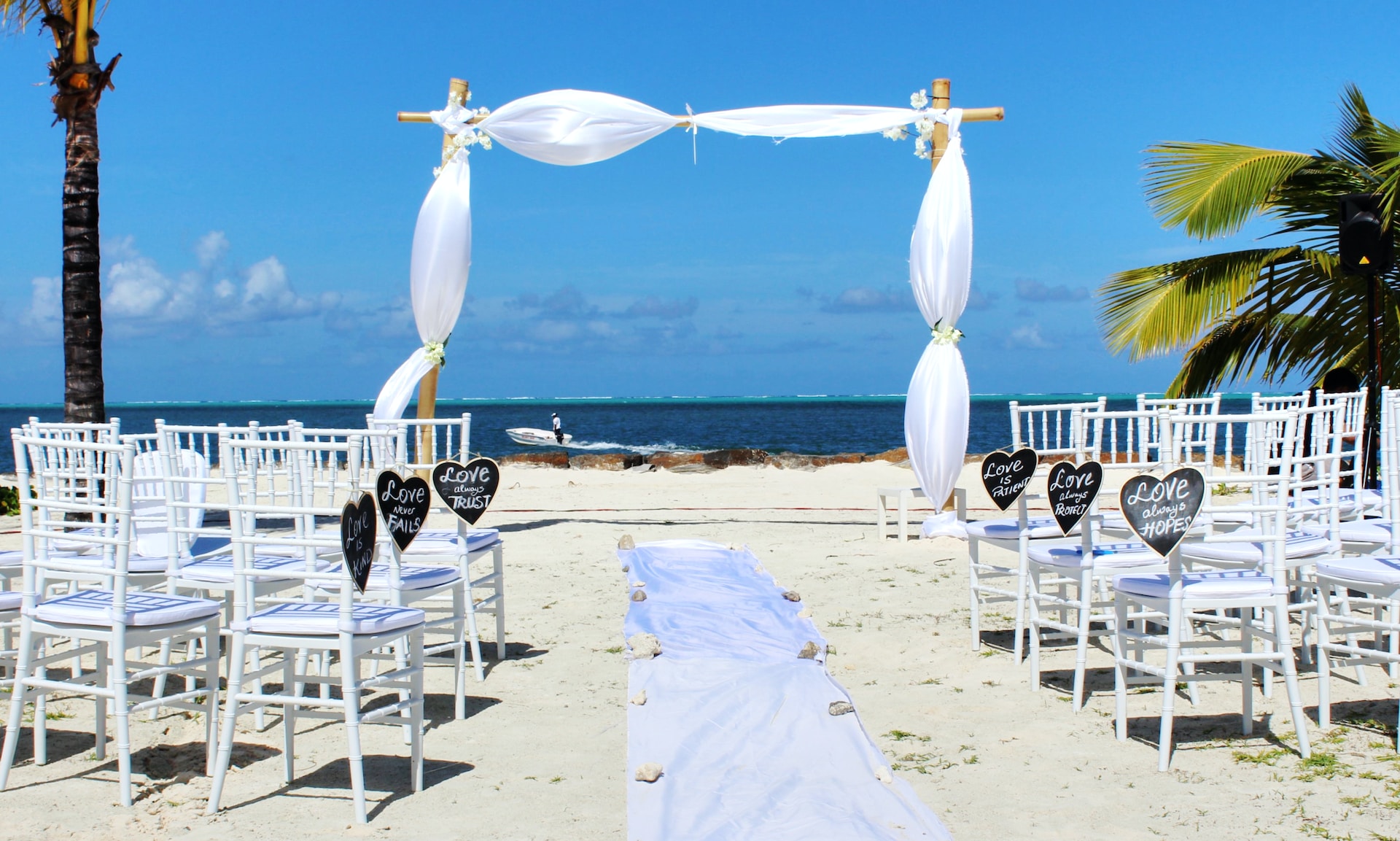 Theme Selection
When it comes to country weddings, there are several popular themes to choose from, each with its own unique style and ambiance. Rustic, vintage, boho, natural, and country themes are among the favorites. Your chosen theme will set the tone for your entire wedding, influencing the overall atmosphere and décor. Rustic is undoubtedly one of the most beloved themes for country weddings. To achieve a rustic ambiance, incorporate elements like wooden materials, straw bales, delicate lace details, and charming wooden signs. Opt for a natural color palette, earthy tones, and soft pastel colors to complement this theme. Vintage, on the other hand, evokes a nostalgic atmosphere. Enhance this theme with antique furniture, vintage tea sets, elegant lace tablecloths, and ornate antique mirrors. Soft and pastel colors are perfect for capturing the vintage vibe. For a boho theme, blend bohemian style with natural elements. Create a romantic ambiance with vibrant tulles, hanging flowers, intricate macrame decorations, and dreamcatchers. Embrace natural and lively colors to complement the boho theme.
Color Palette
If you haven't chosen a specific theme, selecting a color palette is a great starting point for your country wedding. Natural and soft tones are typically favored in this style. Consider pastel colors, light green, beige, champagne, lavender, and pink, or combinations of these hues. When determining your color palette, ensure that it harmonizes with your chosen theme.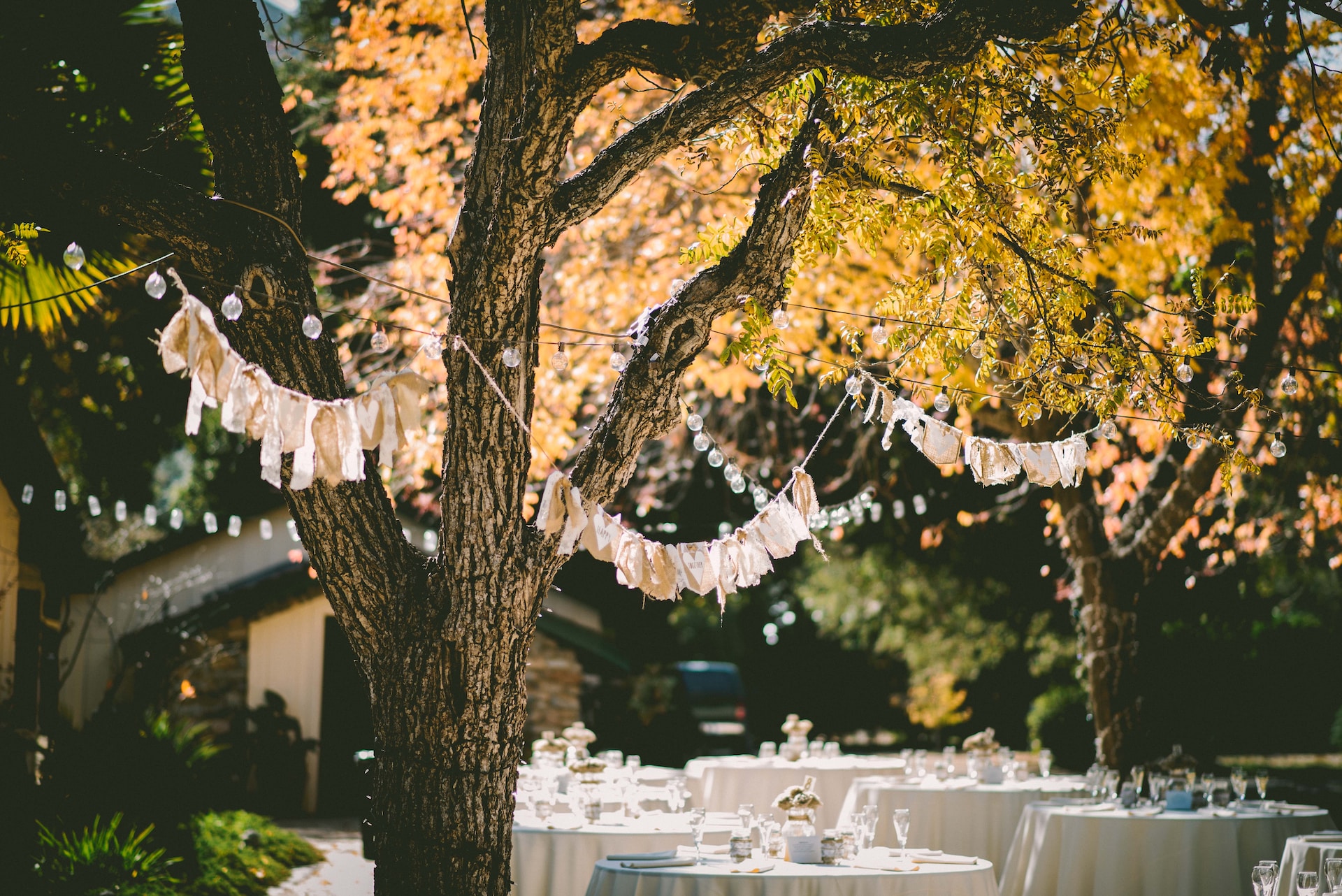 Decoration
Country weddings are all about embracing a rustic and natural style of decor. Incorporate details such as wooden tables adorned with flowers, wicker cushions, and trees adorned with twinkling lights to create a truly natural ambiance. Emphasizing natural tones, pastel colors, and greenery in your color palette will beautifully complement the rustic atmosphere of your country wedding. Therefore, decorating the venue with natural elements will infuse your special day with a charming countryside feel.
Wedding Outfits
Select wedding attire, including the wedding dress, groom's suit, and bridal accessories, that align with your chosen wedding concept. Opt for lace details, natural fabrics, and boho-style accessories that suit a rustic theme. Simple and slightly worn-looking wedding dresses are ideal for country weddings. For grooms, pastel and earth-toned suits are well-suited to the country wedding theme. Ensure that your hair and makeup choices complement the overall concept. Wearing your hair down or opting for braids will capture the essence of a country wedding, while keeping your makeup simple.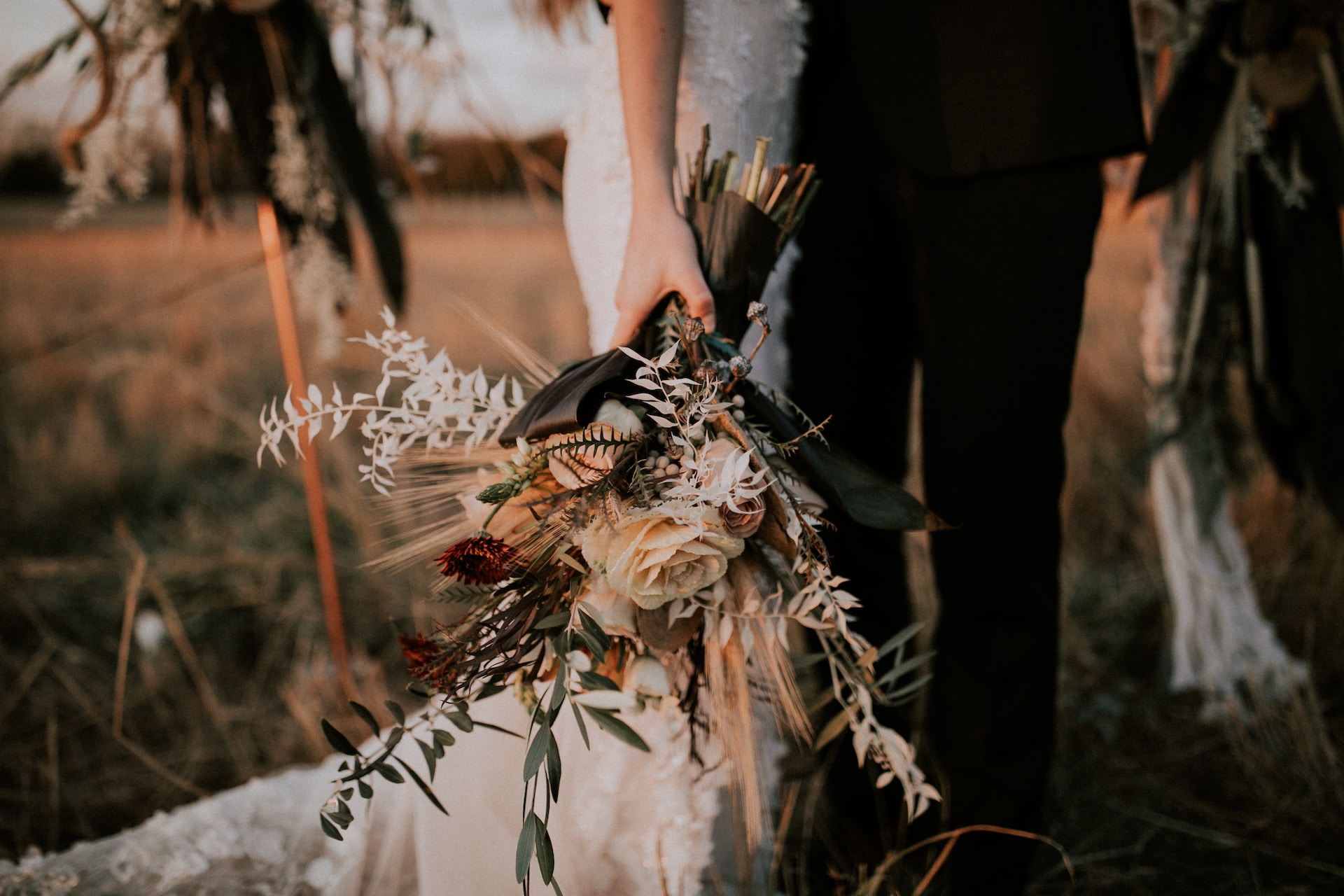 Convenience and Comfort
When planning a countryside wedding, it's important to prioritize convenience and comfort. To ensure your guests' comfort, provide ample seating areas, shaded spots, and encourage appropriate attire for outdoor settings. It's also essential to take measures to protect against mosquitoes and insects. Given the changeable weather, consider having a backup plan such as an indoor area or a tent option. This way, you can ensure a smooth and enjoyable experience for everyone attending your wedding.
Treats
Including treats is essential for weddings, as they delight guests and contribute to the country wedding theme. By offering natural and organic food, you can create the wedding of your dreams while satisfying your guests' appetites. Traditional country wedding catering often includes picnic baskets, fruit platters, natural lemonade, and freshly squeezed fruit juices. For the main course, country weddings typically feature traditional flavors. Utilizing natural ingredients such as village bread, local cheeses, butter, farm-raised meats, and vegetables, a buffet-style setup provides a variety of choices to cater to different tastes. Additionally, you can add a unique touch to your countryside wedding by setting up a barbecue area, allowing you to offer hot meals that are not commonly seen in traditional indoor weddings. To complement the country wedding theme, consider decorating your wedding cake with natural ornaments and flowers that align with your chosen concept.
Entertainment
Entertainment holds significant importance at country weddings, just like any other wedding celebration. Live music is commonly favored, contributing to a delightful atmosphere where you and your guests can dance and enjoy. Country weddings often feature additional activities that set them apart. For instance, organizing outdoor games, arranging a picnic, or gathering around a fire pit can create a unique and memorable experience for everyone involved. These activities add an extra touch of enjoyment and create lasting memories for you and your guests.