Food
11 August 2020
Five New Generation Coffeeshops in Istanbul
Coffee is undergoing an incredible transformation all around the world. Large chains dominated the coffee industry for many years but now there are new coffee beans, roasting styles and brewing techniques to highlight the plant-based features of coffee. If you are looking for cute places and small coffeeshops to have a coffee in every city you visit, here are five new generation coffee shops in Istanbul.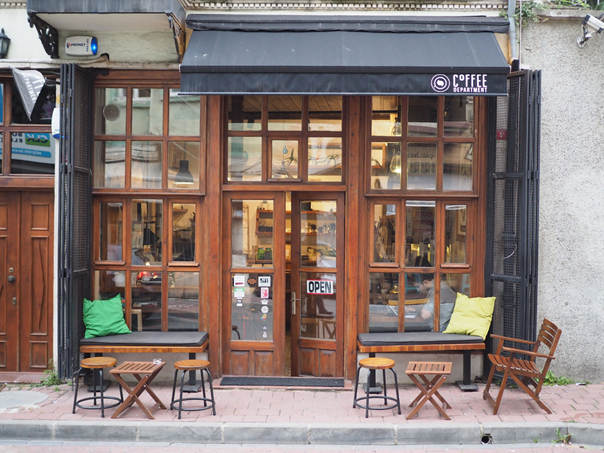 1- Petra Roasting Co.
As one of the first new generation coffeeshops in Istanbul, Petra Roasting Co. is extremely loved by its visitors. With stores in five different districts in Istanbul in addition to a one self-service spot, Petra's stores in Gayrettepe is swarmed by visitors. Roasting coffee beans from all around the world themselves, Petra's main store will offer you a nice Istanbul life and coffee experience based on their kitchen, coffee, and design. Please try their special Peach French Toast with coffee.
2- Coffee Department
With a store in Nişantaşı, Coffee Department's main store is in Istanbul's historical and touristic hubs, Balat. When you wish to to rest after walking around the historical streets of this district, which hosted various cultures for centuries, their home-roasted coffees and home-made desserts will tell you a story about Istanbul's soul and environment. The new arrival from Acacia region in Ethiopia is our favorite.
3- Coffee Sapiens
Located in the hub of new generation coffeeshops in Karaköy, Istanbul, Coffee Sapiens offers the taste of their home-roasted coffees in their small and cozy coffeeshop with an addition from their skillful baristas.  This coffeeshop in Karaköy became one of the indispensable meeting point of coffee lovers both living in and visiting Istanbul. We believe that you can experience the best Flat White in town here.
4-Story Coffee
As one of the must-see districts when you visit Istanbul, Kadıköy is the home of many antiquaries, stores of well-known brands, design coffeeshops and bars, and vintage clothing stores. There is a distinct place in Moda neighborhood of Kadıköy to wake you up in the morning or offer you a nice rest during the day: Story Coffee. With another branch in Yeldeğirmeni neighborhood, Story Coffee appeals to all with home-roasted coffees and brewed teas. Should you decide to have your breakfast here, we suggest you try their tasty pancakes with a nice cup of coffee.
5- Rafine Espresso Bar
As you walk towards the district center from the seaside and pass coffeeshops, stores, passages, and restaurants that are the symbols of Kadıköy, Rafine Espresso Bar draws attention with its significant architecture and design. As can be understood from its name, the coffeeshop is famous for its espresso-based coffees. The delight that starts with the ratio of the coffee to its foam and continues to a deeper taste is enough to draw espresso lovers to the coffeeshop. This small and cute coffeeshop that also offers snacks and desserts will meet all your coffee needs.