Food
8 April 2021
Güncelleme Tarihi: 14 May 2022
Fastest and most efficient way to get to know a city is discovering the breakfast places in town. Breakfast traditions tell apart New York, Van, Tokyo, or Mumbai from each other and these traditions are what makes each city unique. As one of the two cities that competed for "the capital of fashion" title in the 20th Century, Milan is a good example for that. Milan was home to various great artists like Leonardo Da Vinci throughout history and today, the city can provide a stylish, chic, delicious, and Instagrammable breakfast every morning.
We are talking about a breakfast accompanied by an opera you will watch, an impressive cathedral you will tour, or a fashion show you will attend. And you don't always need to pay too much.
Before listing the places we picked for you, let's see what a traditional Milan breakfast is made of... For a Milanese, breakfast means coffee and brioche, a croissant-like pastry. After leaving your hotel, you can stop by one of the pasticcerias you can find on every corner, drink a cappucino or an espresso accompanied by a chocolate, peanut butter, ham, or cheese filled brioche. If you want to have an authentic Milanese breakfast experience, you can finish your coffee and brioche in one breath and get on with your day.
Bar Luce
Designed by the famous director Wes Anderson, Bar Luce echoes the Milanese coffeeshops from 1950's with its pastel-colored furniture and wall decorations. Bar Luce must be visited by those who know the movie universe of the director, who wanted to be an architect when he was young. Bar Luce reminds its visitors of a movie set with its menu and interior decoration for you to visit and experience what being in a Wes Anderson movie feels like.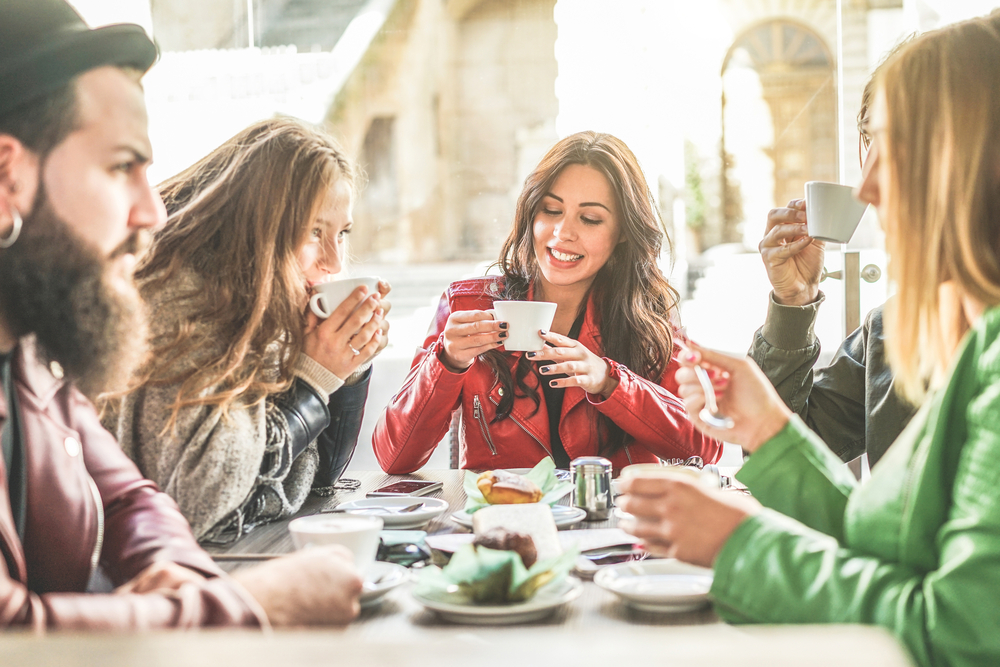 Marchesi 1824
If you want to see how design and fashion influenced Milan, you need to see Marchesi. Managed by the same family for two centuries, Marchesi is famous for its special chocolates, its special breakfast, and panettone, a Milanese dessert. Marchesi has three branches in Milan, one of which is located in Milan's oldest shopping center Galleria Vittorio Emanuele II. Let us say that this Marchesi branch is one of the most high-priced locations on our list.
Luini
Established in 1949, Luini is a tiny store with a long line up at the door during the day for their delicious pastries. You must try their pastries with ham, vegetable, and ricotta fillings. We have a bit of bad news though: Since there are no seats, you can only take your order to-go but be sure that Luini is one of the most delicious and cheapest spots to eat your fill. 
Casa Del Pane
Promising home-made Italian delicacies, a real espresso, and a sincere atmosphere, you will find more than you are looking for in Casa Del Pane. Located in the heart of Milan, the place is perfect for a quick (and delicious) breakfast or even lunch. 
Cova
Cova has been a fashionable meeting point since day one in 1817 as one of the favorite spots of many famous artists from Giuseppe Verdi to Ernest Hemingway. Because the original building was damaged in WWI, Cova moved to the city's fashion center Monde Napoleone in 1950 and it is still one of the most iconic breakfast places in Milan. Having your breakfast in Cova, in a timelessly graceful environment away from modern fashion is most definitely a unique experience.
Fruteiro
Located in the Brera district just like many other bars and coffeeshops that bring local and international artists together, Fruteiro is the best spot for those looking for a healthy and light breakfast. The place is famous for their smoothies made with tropical fruits imported from Brasil. You can also find fresh fruit juices, fresh fruits, sorbets, yoghurt, salads, and toasted sandwiches.
Macha Cafe
How about having your breakfast in a Milanese cafe that reflects the Japanese culture? You can have an unusual Milanese breakfast in Macha Cafe accompanied by a perfect cup of green tea. Pastries with Matcha tea aroma combine the two cultures. Let us add that the cafe is vegetarian-friendly.