Food
31 May 2021

For the French, who have a very rich culinary culture from cheese to chocolate, from bread to casseroles, making soup is like an art. We listedthe four most popular soups that are delicious meals on their own as well as accompanying meat dishes.

Potage Parmentier Recipe (French Potato Leek Soup)
Half a kilo of potatoes

600 grams of leek

3-4 tablespoons of olive oil

4-5 cups of vegetable stock

4 tablespoons of cream

2 tablespoons of lemon juice

A few slices of stale bread

Fresh rosemary

Salt, pepper
Heat the olive oil in a large skillet. After peeling and chopping the potatoes and leeks, fry them on medium heat for 10 minutes until they turn brown. Add about 1 liter of vegetable stock and after the soup approachesthe boiling point, cook for another 40 minutes by reducing the heat.
Finely chop the slices of stale bread. Heat 2 tablespoons of olive oil in a medium skillet. After adding the bread and fresh rosemary, fry the bread, shaking the pan from time to time until they are crispy. Add a pinch of salt to it.
When the vegetables are softened, smooth the soup with a blender. Add cream, lemon juice, salt, and pepper and remove from heat. At this stage, if the consistency is thick, you can add a little more vegetable stock. Serve with croutons.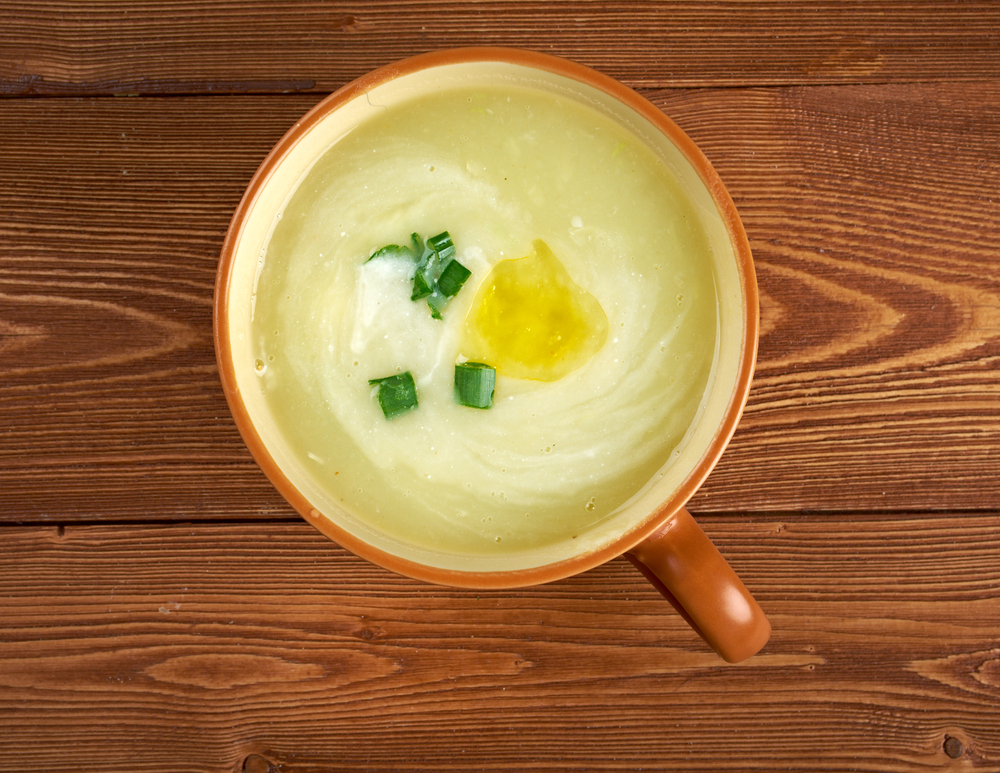 Potage aux Legumes (French Green Vegetable Soup)
2 onions

3 cloves of garlic

3 tablespoons of butter

4 and a half glasses of water

3 carrots

1 leek

3 sprigs of green onions

1 bunch of fresh spinach

1 bunch of watercress

1 glass of chicken stock

Extra virgin olive oil

Balsamic vinegar

Salt, pepper
Fry the finely chopped garlic and onions in butter for about 5 minutes until they turn translucent. Add chicken broth, water, chopped green onions, leeks, spinach, carrots, and watercress, then let them boil. Then, reduce the heat and cook for half an hour until the carrots turn very soft. Allow cooling after removing from heat.
When the soup cools, smooth it through a blender and put it back on the stove. After cooking for another 15 minutes on low heat, transfer to serving bowls. Serve with a little vinegar and olive oil sprinkled on top.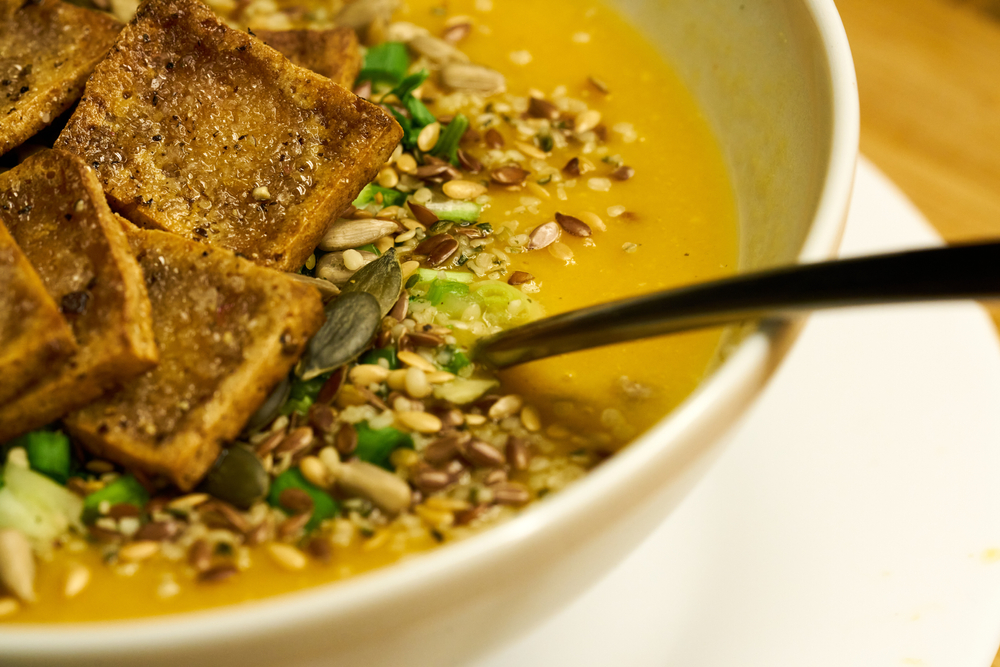 Onion Soup
6 large onions

2-3 cloves of garlic

2 tablespoons of balsamic vinegar

4 tablespoons of olive oil

2 spoonful butter

1 teaspoon of granulated sugar

2 teaspoons of thyme

2 bay leaves

6 glasses of broth

Salt, pepper
For the surface:
4-5 slices of baguette bread

Half a glass of grated cheddar
Put 3 tablespoons of olive oil in a deep pan and let the julienne-shaped onions cook in the heated olive oil. Add salton the onions, which are cooked for 20 minutes on medium heat, and then add 1 tablespoon of olive oil.Next, add butter and cook for about 15 more minutes until the bottom is well cooked and caramelized. At this stage, add sugar and fry until they change color.
After the onions are caramelized, add vinegar, minced garlic, thyme, black pepper, bay leaf, and chicken stock; reduce the heat and cook in this way for about 30 minutes.
Put the baguettes on which you apply olive oil with a brush in the oven and fry them.
The soup is divided into heat-resistant bowls; place the bread on it, cook the grated cheddar and the cheddar in a preheated 180-degree oven until the cheddar melts.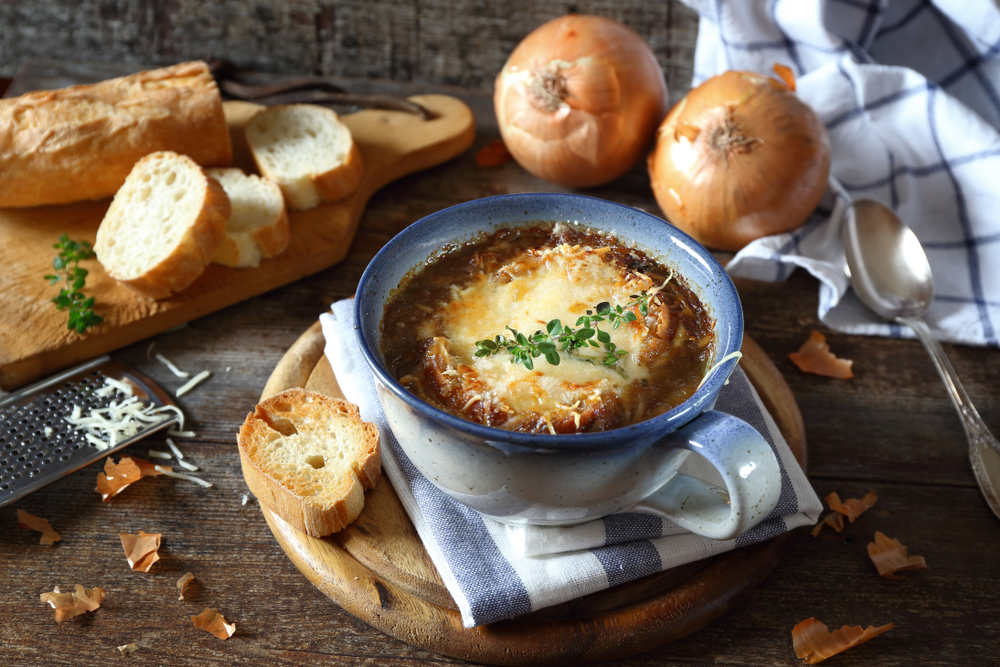 Soup à l'ail (French Garlic Soup)
2 tablespoons of olive oil

2 spoonful butter

1 glass of whole garlic

1 small onion

1 cup of diced potatoes

4 glasses of chicken stock

Salt, white pepper
Melt olive oil and butter in a large saucepan. Saute the onions and garlic over medium heat for 15-20 minutes, stirring frequently. Add chicken stock and potatoes and let them boil. After it comes to the boiling point, close the lid of the pot, reduce the heat, and cook, occasionally stirring, until the potatoes are soft. After removing the soup from heat, blend it. Then heat it up again, adding salt and white pepper. You can decorate it with finely chopped arugula after taking it into serving bowls. Bon Appétit!