Culture & Travel
18 April 2021

We take a look at the beautiful turquoise beaches in Greece, the friendly Mediterranean country, in this article. We have compiled some of the beaches indispensable for sea lovers with its miles of beaches, famous bays, beaches hosted by the crystal waters of the Aegean Sea, and secluded coves.

Navagio Beach (Shipwreck Bay), Zakynthos Island:Would you think that you can sunbathe and swim in the company of a shipwreck? This beach has a magical atmosphere with its steep white hills, turquoise water, and white sand. As soon as you see this stunning beach, you will want to dive into deep waters. For transportation, it is possible to reach Zakynthos from Istanbul with a 5-hour flight with a connecting flight from Athens.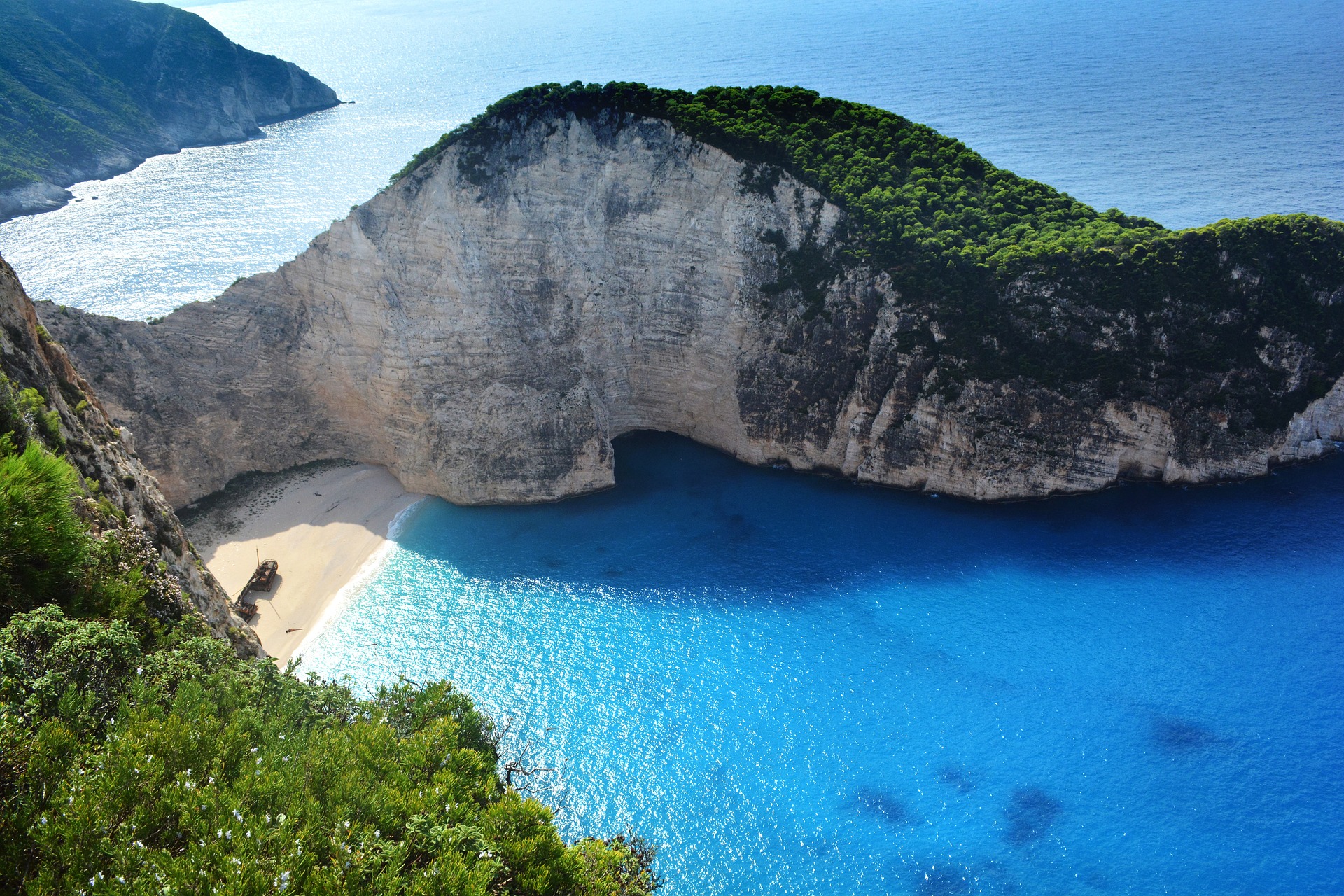 Myrtos Beach, Cephalonia Island: The beauty of Cephalonia, which is undoubtedly one of the most famous islands in Greece and ranked first in the country, is legendary. A sky-blue sea at the foot of high hills, gentle pebbles, white sand, and you. It is not difficult to go to this dreamlike beach. You need to take a 7-hour flight from Istanbul to Cephalonia Airport after a connecting flight from Athens.
Elafosini Beach, Crete Island: Elafosini Beach in the southwest of the island awaits sea lovers with its lovely pink-white sands, shining water, and magical environment. The waves falling on the reddish-pink sands enchant you while swimming. If you do not want to mess with the umbrella and sunbed crowds in the summer, try the quiet off-season times and enjoy the beach. You can go from Istanbul to Crete with a connecting flight from Heraklion or Chania International airports.
Porto Katsiki Beach, Lefkada Beach: Unlike other Ionian islands, the beach in Lefkada can be crossed by the road from the mainland. Considered ideal for surfers, sailors, and superstars, Porto Katsiki Beach begins after the sand at the bottom of a high mountain and enchants its visitors with its deep blue water. Don't forget to drive among lush pines and chestnut trees to get a little away from the summer crowds.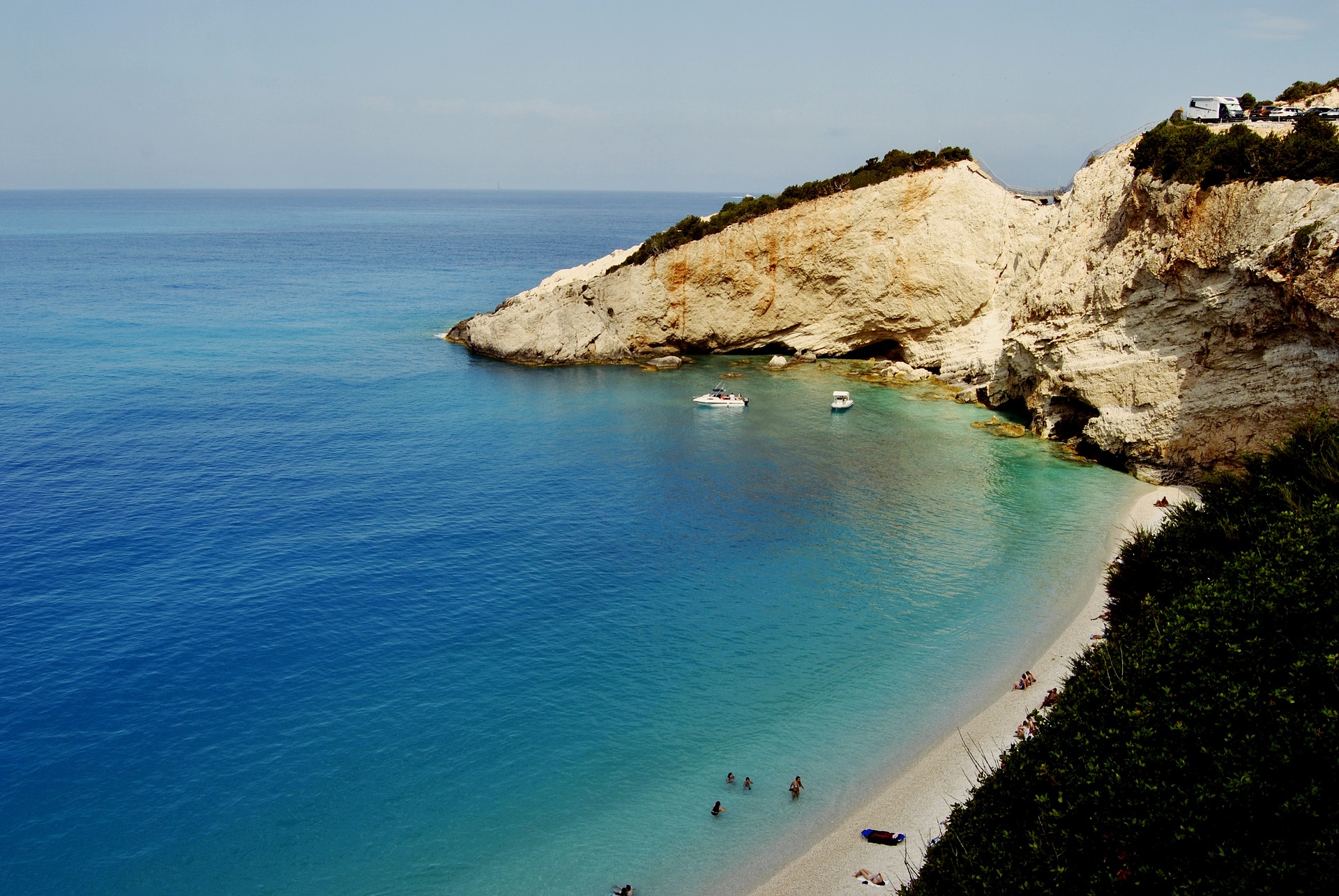 Voidokoilia Beach, West Messinia, Peloponnese: The perfect semicircular view of a lake surrounded by trees, as if created by a designer, has made Voidokoilia Beach famous. This impressive beach is one of the must-see beaches in the country, especially with its unspoiled nature. If you are one of those looking for this calm, neither umbrella nor sunbeds around, only the dance of the sea and the sand, the opportunity to relax in Voidokoilia is yours.
Canal D'AmourBeach (Love Channel Beach), Corfu Island: With its carved white cliffs, underground caves, small beaches, blue-green waters, and extraordinary structures, Canal D'Amour is happy to welcome its guests. It is believed that whoever swims in the first narrow entrance of the rock on this different beach, that person will find the love of his life on the other side of the channel. The beach, which is almost a wonder of nature, was formed by the abrasive effect of water and the air above the hills of sandstone. You may prefer Corfu flightsconnecting through Athens.
Kolymbithres Beach, Paros Island: The beach in the Bay of Naoussa hosts magnificent views throughout the season with its magnificent blue-green waters, greyish cliffs that create flat and imaginative games, and sand caves of different sizes. Mykonos flights from Istanbul can be a logical option to get to Kolymbithres Beach.
Seychelles Beach, Ikaria Island: The stunning Seychelles Beach, 3 kilometers east of Magganitis on IkariaIsland, has amazing beauty with its marble-thin pebbles, stunning emerald-green water, and large cliffs that make you feel like you are in the Indian Ocean. Be careful not to wear flip-flops to avoid falling on cliffs.