Culture & Travel
29 April 2022
What is a Blue Tour and How to Do It?
How about exploring the exquisite nature of the Aegean and Mediterranean seas with boat tours known as blue cruises? You've probably heard of the Blue Tour, but let's talk about it anyway. The idea for the first blue voyage in Turkey came from the Halicarnassus Fisherman. It is no wonder that we know his love for Bodrum from his works. He and his friends became the first people to embark on their first blue tour as pioneers of yacht and gulet culture. Then, as in the examples abroad, these tours started to be carried out by various agencies in our country. Both domestic and foreign tourists wanted to take advantage of the rich nature of the country. All kinds of people were in demand for these tours. Then let's talk about how these tours are done.
If you want to go on a blue tour, the first thing you should do is decide whether you want to rent a gulet or a yacht. Both are specially produced vehicles for these tours. But the gulet, unlike the yacht, is wooden and sailboat. Usually with a capacity of 8 to 16 people, these vehicles are produced in the style of a small boutique hotel for your comfortable journey. It consists of several sections such as spacious decks, kitchen and bars, living rooms, relaxation rooms. If you've made your choice, let's move on to the second plan for your journey.
Secondly, you need to create a route according to where you want to travel. The agent you choose will guide you through this. There are different routes from specially created Bodrum to Antalya. You can see Antalya, Marmaris, Kekova, Kaş, Kalkan, Fethiye, Göcek, Marmaris, Bodrum and even the Greek Islands via these routes. These natural wonders have beautiful bays and ancient cities. During your tour, you will spend time both on land and at sea and witness all these beauties. We would like to tell you all the places covering the blue tour, but for now we will give you the details of the tours departing from Marmaris. Let's get started.
Legendary Meeting of Blue and Green: Marmaris and Blue Tour
One of the most preferred routes as a departure place within the scope of blue tour is Marmaris. Because it is both very comfortable and very ideal for a start. Routes from Marmaris are divided into two:
• Marmaris- Hisarönü Bay- Marmaris
• Marmaris- Fethiye- Marmaris
Marmaris- Hisarönü Bay- Marmaris
Although it varies depending on the agent you choose, the places you will visit are almost the same. At the end of this direction, you will return to Marmaris in a total of 7 days. Let's see where you're going to be day by day.
DAY 1
After leaving Marmaris Port, you can tour around Marmaris while having breakfast and having dinner. You get the opportunity to watch the whole city from the sea, especially the historical Marmaris Castle.
DAY 2
On the second day, you go to Bozkale and usually stay here at night. The ancient city of Loryma is visited. Learn the history of the castle, which has nine towers, and explore its surroundings.
DAY 3
Breakfast is served and a break is given. Immediately afterwards, the anchor is laid in Datça. After visiting the Ancient City of Knidos, you can go to the sea in Kargı Bay. You spend the night here.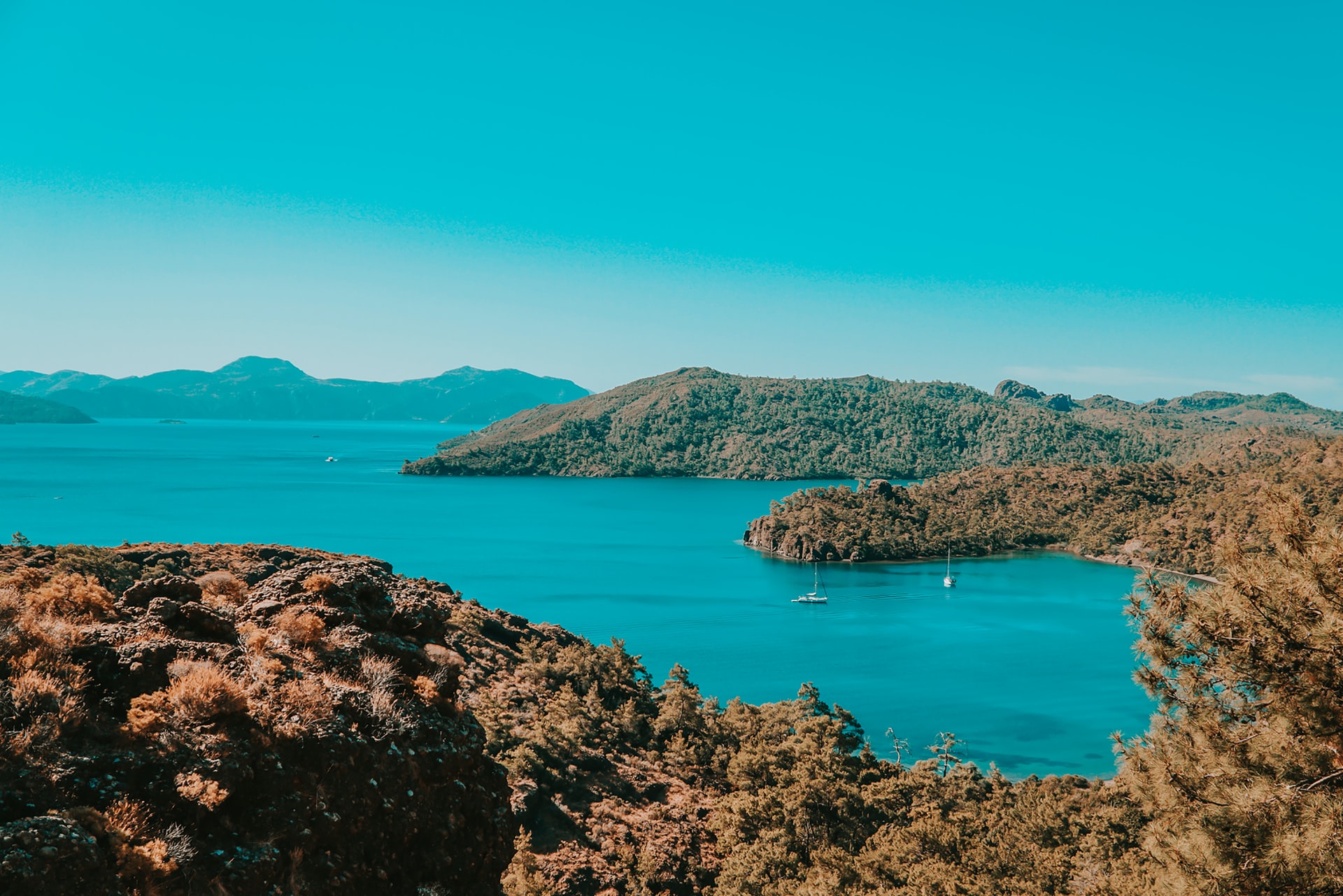 DAY 4
After breakfast, head to Aktur Bay. From here, you go to Bencik Bay. Dinner and accommodation will be here. Bencik Bay is located on the peninsula separating Hisarönü Bay and Gökova Bay. At the time of the case, the Knidos had chosen this shrinking bay as a defensive line against the Persian army. But despite their best efforts, the Persians had captured Knidos. You can make your trip enjoyable by learning more about this area.
DAY 5
It moves towards the interior of the Hisarönü and thus reaches Orhaniye Bay. You can do Jeep Safari in this bay. You can also see the natural formation known as 'Girl's Sand', which consists of the rise of seawater here. After visiting the ruins of the ancient city, Selimiye bay is moved and stays here at night.
DAY 6
The Dirsekbükü is anchored for a while. Here you can swim and sunbathe. Then you move to Bozburun, a quaint fishing town, where you end the day.
DAY 7
On the last day of the blue tour, you can spend time in Kumluk and Kadirga Bay. There is a swimming break on Paradise Island and dinner is eaten. Then, the last stop of the route, Marmaris, is reached and anchored to the port.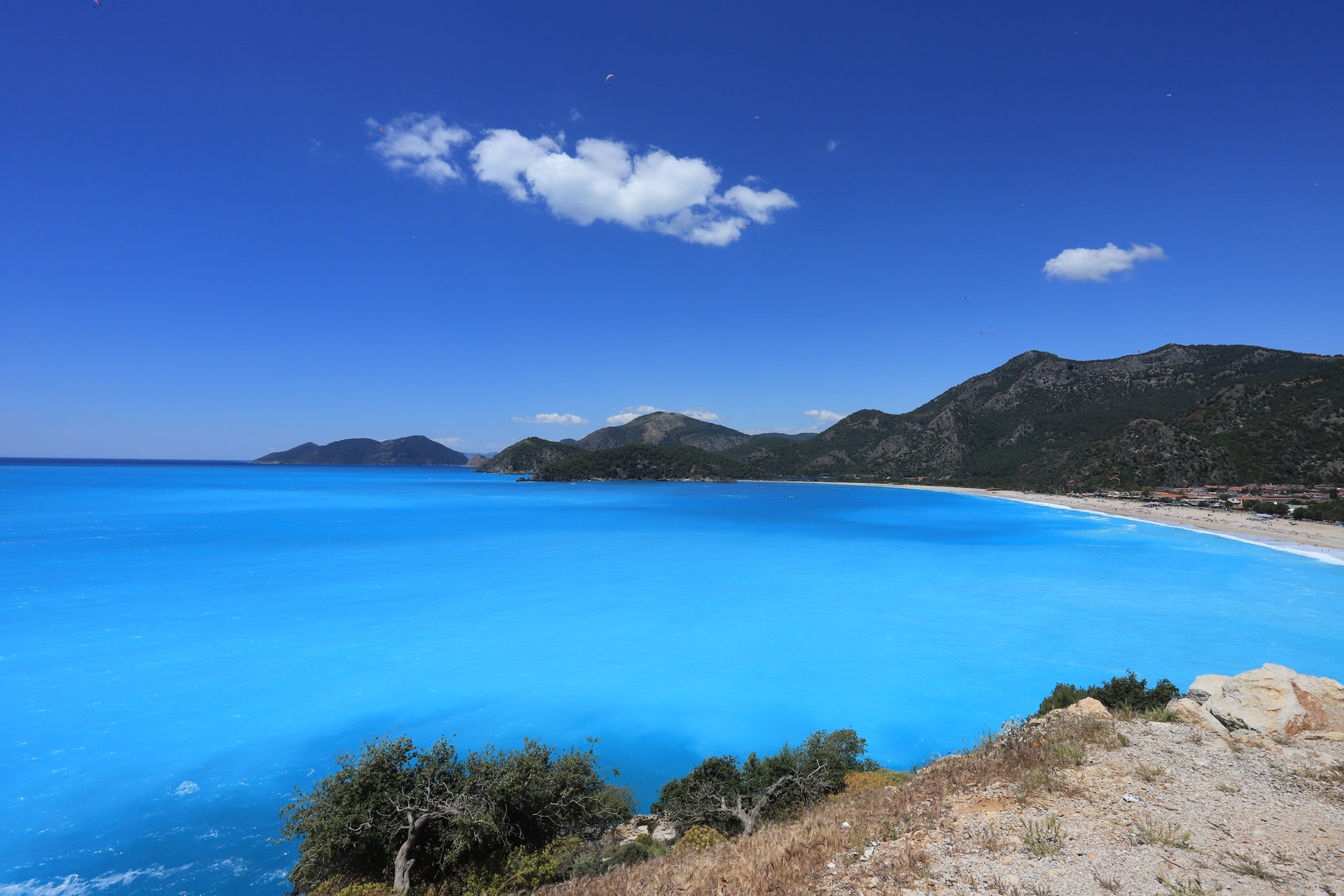 Marmaris- Fethiye- Marmaris
Since it is a two-way route, you can also take off from Fethiye if you wish. During your journey, which will last an average of one week, you will visit the bays of Fethiye, Ekincik, Göcek and Marmaris.
DAY 1
Marmaris Port is used as the exit place. You go to İçmeler and Turunç bay.
DAY 2
The day begins by going to Ekincik bay. From here you go to Dalyan; Rock Tombs, Ancient Theatre, Church, Acropolis Castle are visited. You can also see the caretta carettas at İztuzu Beach.
DAY 3
Breakfast is served on Shipyard Island. Some time is spent in this region, which was used for ship repairs during the Byzantine and Ottoman periods. Then you go to Monastery Bay. This place is also known as Batık Hamam Bay due to the remnants of an old bath in the water. Finally, the Red Island are taken and anchored.
DAY 4
Anchored at Fethiye Port. There are usually separate tours to the city center, Ölüdeniz and Saklıkent.
DAY 5
You come to Göcek Island, where you get a long break for a swim. After lunch, you go to the Yassıca Islands and anchor here at night.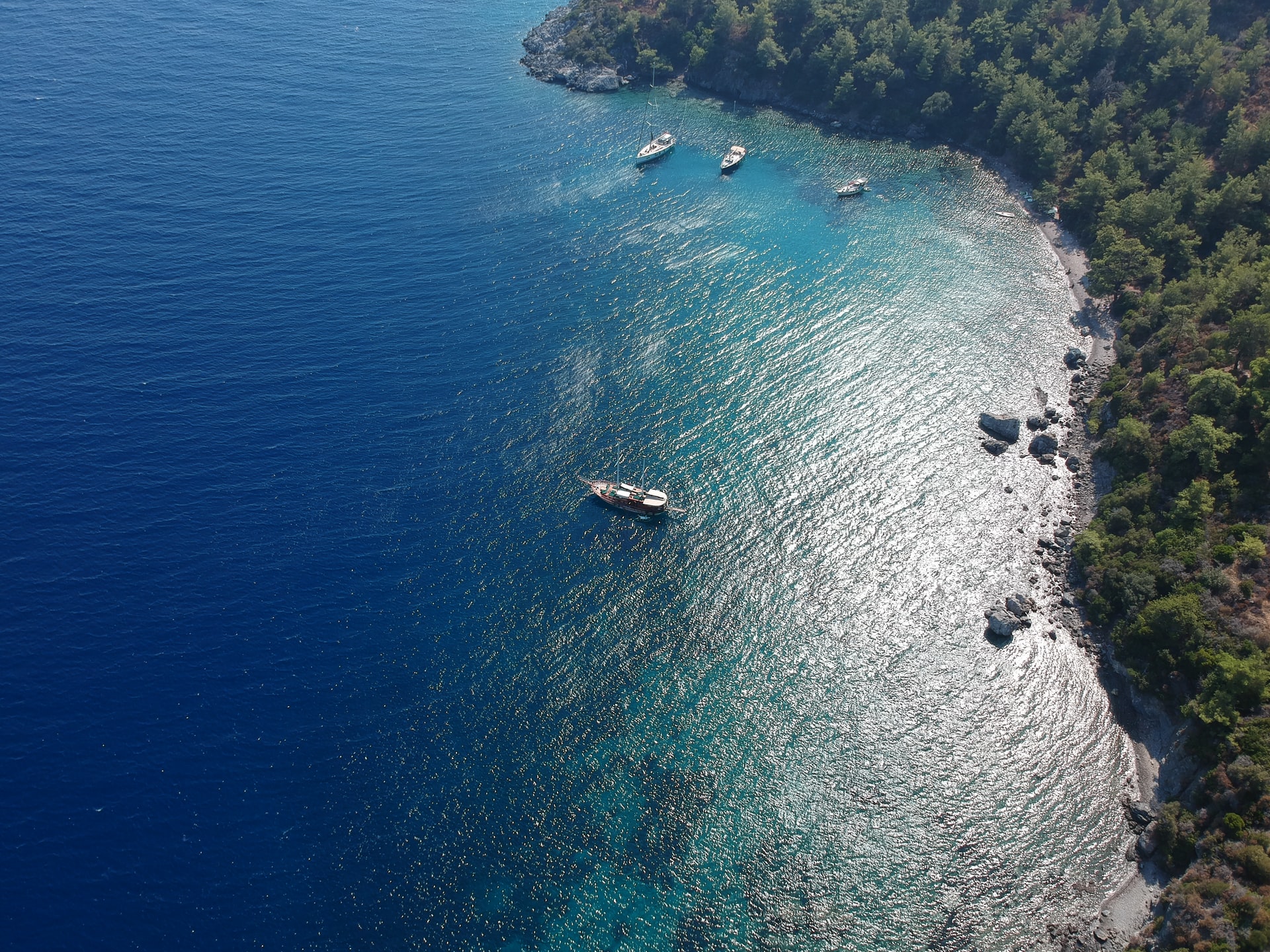 DAY 6
Bedri Rahmi Bay, Sarsala and Agha Port are visited. There's plenty of time around here.
DAY 7
After the Galley and Paradise Island routes, Marmaris is returned. After having dinner at İçmeler and making your stay, you will be at the end of your magnificent blue tour adventure.
Turkey's clearest seas, greenest forests and most important historical ruins are located in the geographies visited by the blue tour. If you say that you are passionate about aegean and mediterranean, I can never get away from blue and green, you should definitely take the blue tour journey and visit the routes from Marmaris.