Culture & Travel
19 April 2022

Capsule hotels, which offer a look from sci-fi movies, are among the most unique types of accommodations that have emerged in Japan. The first capsule hotel concept, which was opened in Osakala, Japan in 1979 by architect Kisho Kurokawa under the name "Capsule Inn Osaka", mostly appeals to businessmen and serves female guests due to the increasing interest today. Capsule hotels have separate areas and floors for men and women. 

These budget-friendly sleeping spaces are very popular with foreign travelers, business travelers, businessmen who missed the last train, people who need a place to rest for a few hours, young people who come to the city for a concert and want to save on accommodation. Capsule hotels that offer a unique experience are now available all over the world, from the US to Singapore and Vietnam.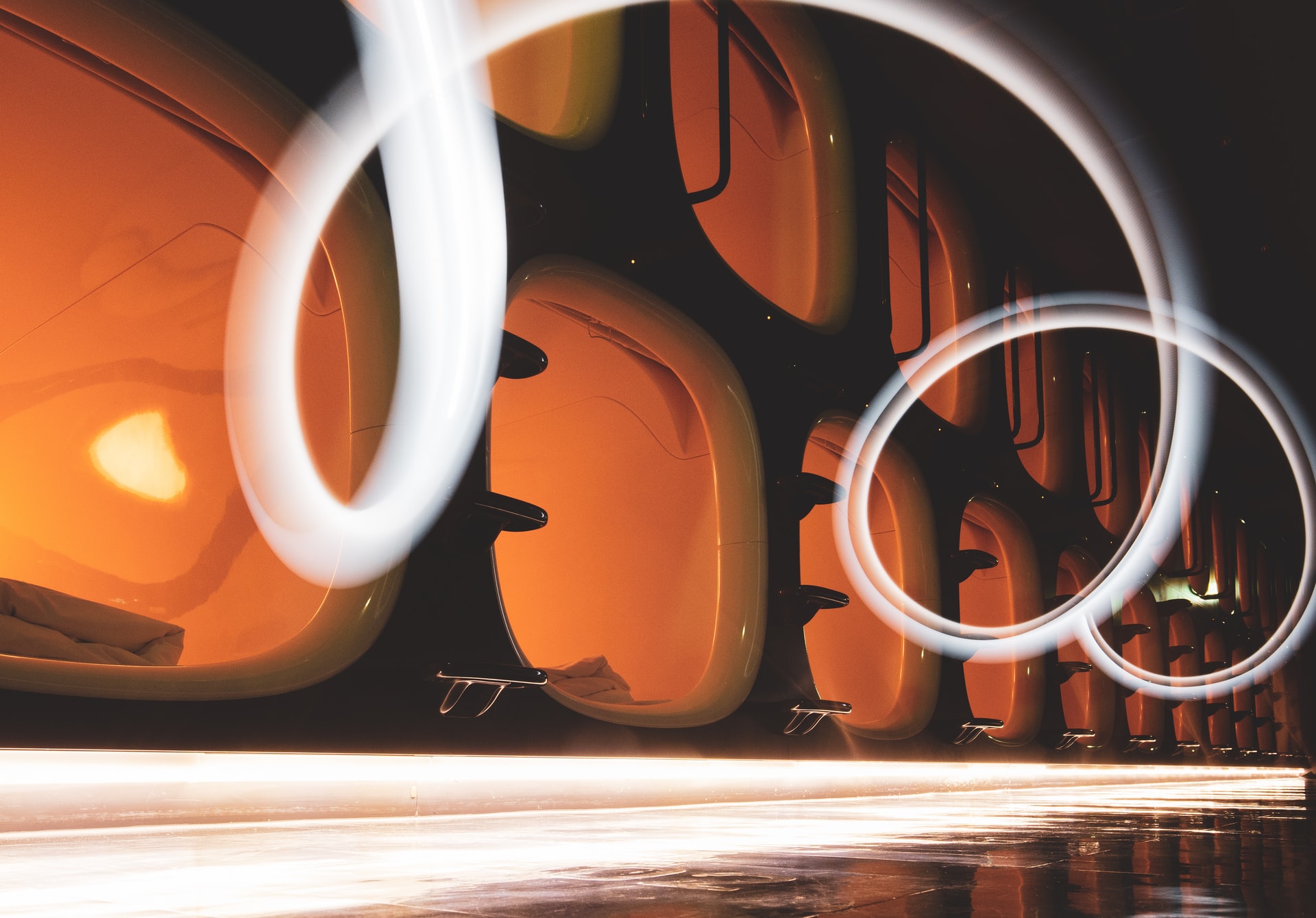 Facilities Provided by Capsule Hotels
Capsule hotels are arranged neatly side-by-side, one above the other, in compartments along the corridor, the size of a bed and a meter high as standard. Inside the capsule are sheets, blankets and pillows to meet your basic needs, a light, alarm clock, TV and radio unit, electrical outlet and free Wi-Fi internet. A curtain or door can be closed in front of the entrance for privacy. Items are usually stored in a locked locker provided by the hotel. Other facilities such as toilets and showers are shared. In addition, these hotels have restaurants, vending machines, laundry, lounges, entertainment rooms, game and manga rooms.
Details You Need to Know About Capsule Hotels 
The procedures applied in capsule hotels with different accommodation capacities are as follows:
• A minimum stay of 4 hours and a maximum of 17 hours is permitted. If you wish to stay for the next day, you must rebook. However, there are capsule hotels where you can stay for a few days.
• First, replace your shoes with Japanese-style slippers and put them in the closet of your choice. Then leave the key to your locker at reception.
• When the capsule enters the hotel, you are first given a capsule number and the key to the locker where you can put your belongings. After check-in, you will receive another key for a personal locker where you can store your valuables. This key is the same as the capsule number you were given. At the same time, it is advisable to put your valuables in these personal cabinets, since there are no locks on the capsule doors.
• Shampoo, soap, towels and other hygienic toiletries are provided by the hotel and wc, shower areas are located on a separate floor.
• Sheets, blankets and pillows are provided by the hotel.
• Capsule hotels offer facilities such as relaxation areas, restaurants and other entertainment areas where you can relax alone or spend time with friends.
• Meals and smoking are not allowed inside the capsule rooms.
• When entering your capsule, you may need to close the door or pull a curtain.
• Capsule hotels are not designed as long-term stays, so they usually ask you to check out during the day and remove all your belongings from the hotel. Check-out time is usually at 10:00.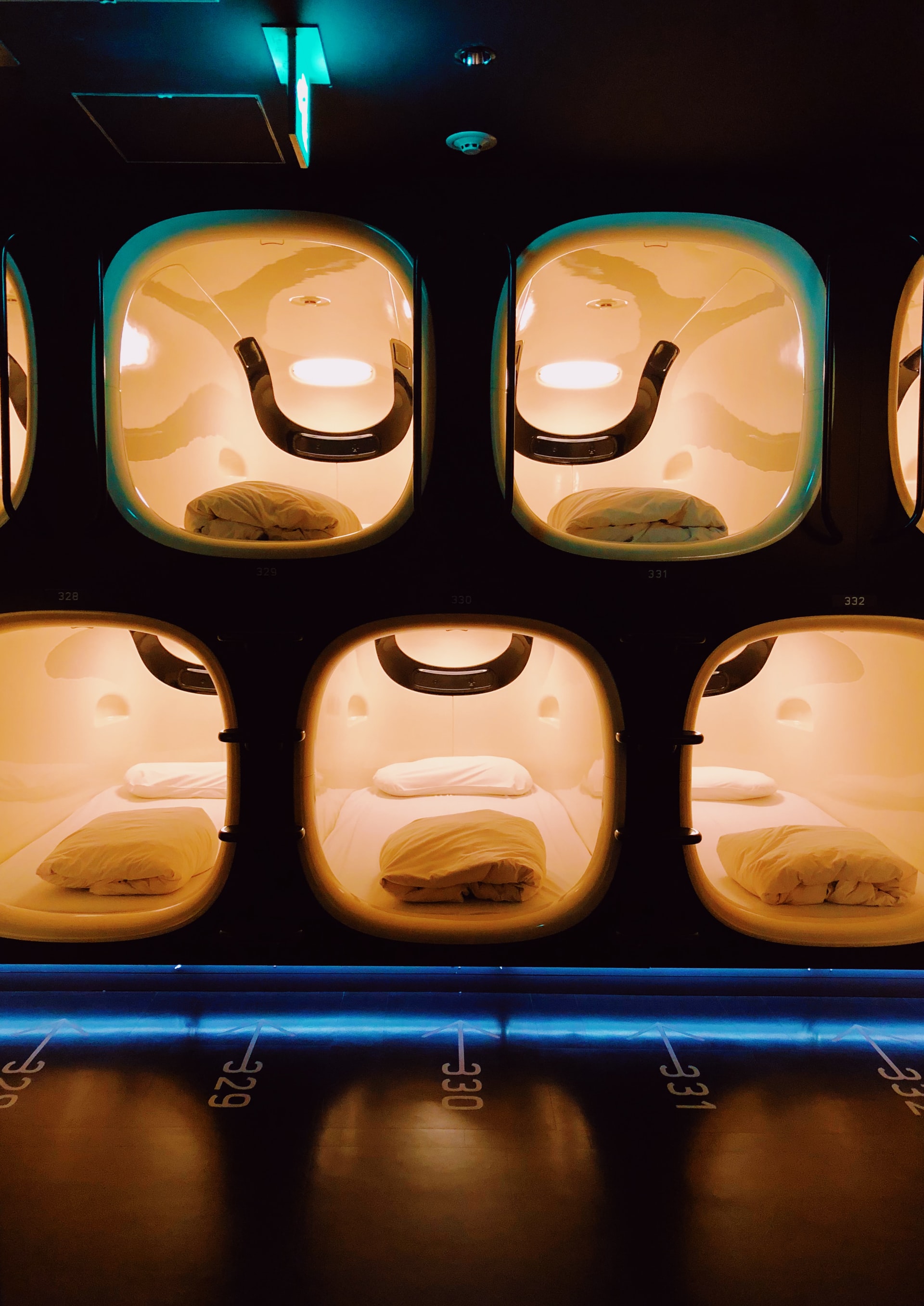 Capsule Hotel Prices
The price of budget-friendly capsule hotels may vary depending on age, style and city. Capsule hotels in big cities like Tokyo, Osaka and Kyoto can be slightly more expensive than capsule hotels in smaller cities. Overall prices are ideal for having this interesting and fun capsule hotel experience and having a one night stay.
Capsule Hotels in World
Capsule hotels are mostly found in Japan near public transport hubs and in major cities. Let's take a quick look at these hotels:
9 Hours Hotel, Tokyo- Japan
9 Hours Hotel is the popular capsule hotel that opens based on a total of 9 hours, one hour of bathing, seven hours of sleep and one hour of dressing. This capsule, where the traditional concept of Japanese hospitality is applied, features white colors that reflect minimalism inside the hotel, using black detailing to produce a strikingly contrasting image. Each compartment, which is divided according to men and women, has special elevators. Unlike other capsule hotels, the capsules have large ceiling-height compartments.
Capsule Hotel Astil Dotonbori, Osaka- Japan
Capsule Hotel Astil Dotonbori offers a pleasant stay in Osaka. This capsule hotel has 230 rooms designed to meet your basic needs. Known for its excellent service, this hotel's capsule rooms feature a uniquely spacious design. All rooms have a large TV. All guests receive a bottle of mineral water and a free breakfast consisting of bread and juice for a limited time.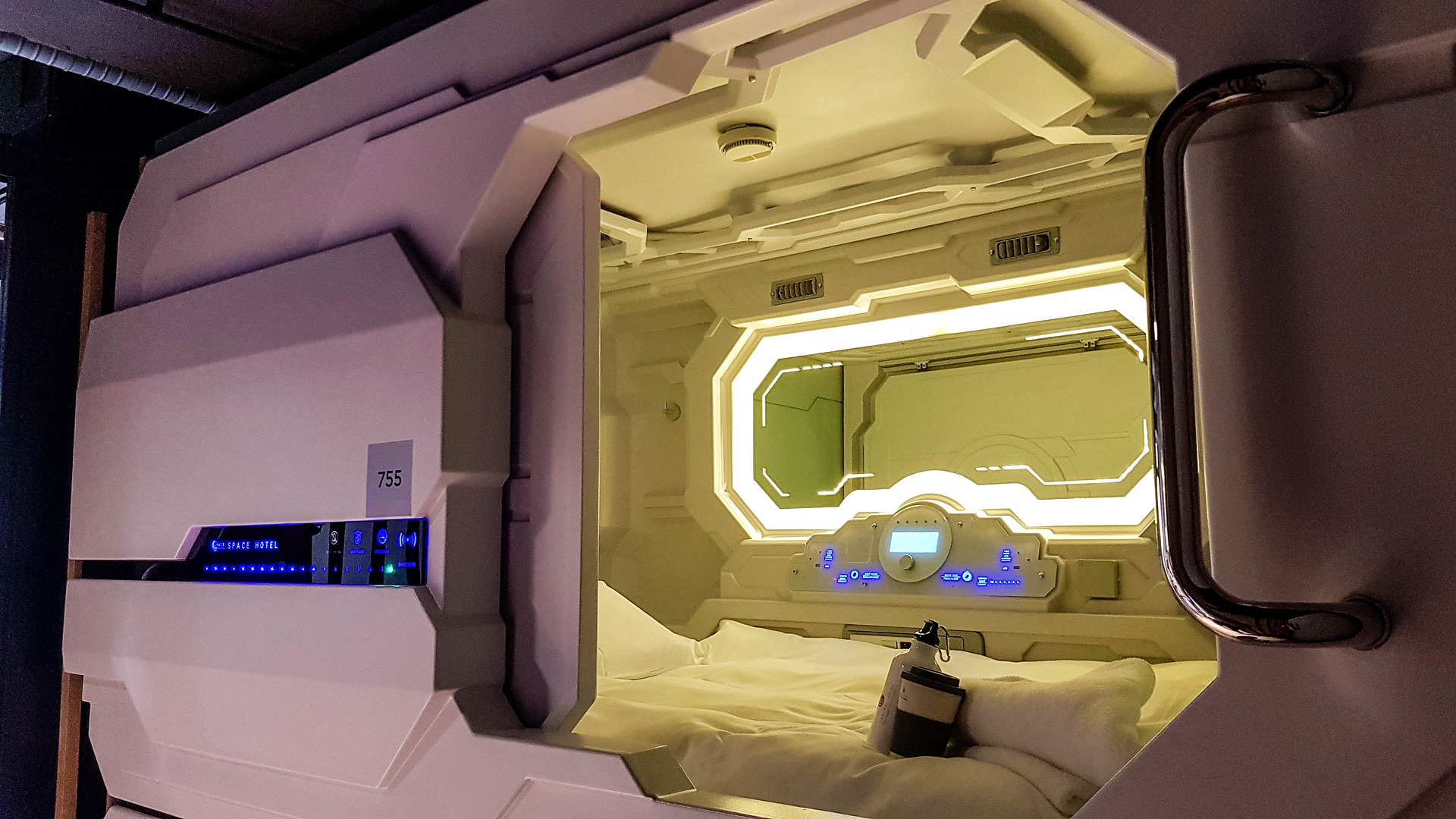 Y's Cabin Osaka Namba, Osaka- Japan
Exclusively for women, this capsule hotel is located in the center of Osaka. It offers many interesting services to ensure that female guests have a pleasant stay. The capsule rooms are dominated by soft colors. Each compartment has a toilet and lockers for personal items. In addition to household clothes, there are bath towels and face towels, toothbrushes, hairbrushes, shampoos, conditioners, body soaps, lotions, milk lotions, cleaning creams, face cleaning foam and razor blades.
UZ Hostel, Taipei- Taiwan
Located in Taipei, Taiwan, this capsule hotel attracts Star Wars lovers with its spaceship-like interior. Featuring a spacious relaxation area, it features air-conditioned capsule rooms, a television, a pair of slippers and handy international charging outlets, free Wi-Fi, a coin-operated laundry and a vending machine. Guests are also served coffee and an American-style breakfast.