Culture & Travel
26 November 2020
Curious Sculptures
Every country has a masterpiece of a symbol. Just like we think of France when we hear the Eiffel Tower, or the USA with the Statue of Liberty, or Italy with the Pisa Tower. However, there are many other smaller (or larger) sculptures attracting tourists all around the world. In this article, we listed the five curious sculptures around the world just for you. Enjoy!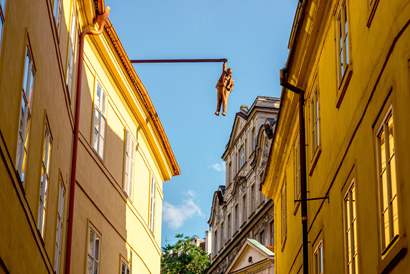 1-Man Hanging Out - Prague / Czechia
Even though the statue terrifies its audience at first, it is actually a statue of Sigmund Freud hanging outside of a building. Located in the Old Center of Prague, the statue was designed by David Cerny in 1996. The statue has two meanings. First meaning is that it questions Sigmund Freud's intellectuality of the 20th Century while the second is that the statue is the objectified state of Freud's life-long issues.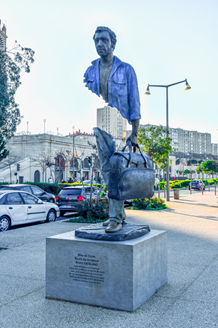 2-The Travelers - Marseille / France
The Travelers are the statues of half-empty human figures designed by the French artist Bruno Catalano.  The statues were put on display in 2013, after Marseille became the European Capital of Culture. Even though the missing parts make the statues look flawed, they are also the reason why they are extraordinary and unique. The missing parts can be interpreted as "are travelers missing something?" or "have they left something behind?". 10 of the statues are displayed in Port of Marseille. More of them can be found on Bruno Catalano's website. The statues were also briefly displayed in Paris, Venice, and many other cities as well as Marseille.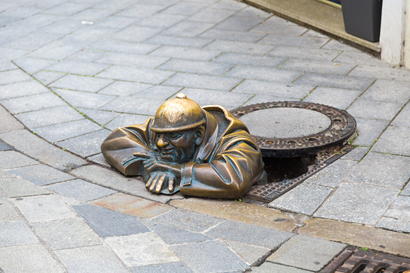 3-Čumil - Bratislava / Slovakia
Čumil is the sculpture of a sewer worker peeping out of a manhole with cheerful eyes. Čumil has two stories. The first one tells the story of the new town built after the raid in 1805 while the second story is a little more enjoyable. According to the story, Čumil is peeping out of the manhole to keep an eye on Slovakian girls. In fact, Čumil means a "watchman".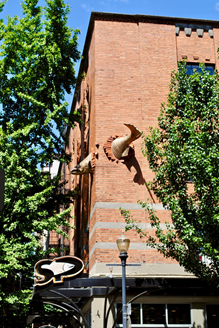 4-Transcendence - Portland / USA
The Transcendence is an outdoor sculpture by Keith Jellum. The sculpture is 3.4 meters long and depicts a salmon fish flying through the brickwork. The harmony of the sculpture and its location is impeccable. The sculpture is located right above a fish restaurant on Salmon Street.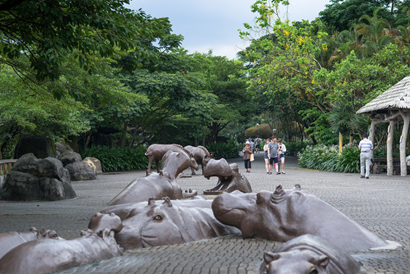 5-Hippo - Taipei/Taiwan
The Hippo Sculpture depicts a couple hippos half underground in Taipei Zoo. The sculpture was voted as one of the most creative 25 sculptures around the world on Boredpanda website. The individual who came up with the idea was the Zoo's old manager, Chen-Pao Chung. He came up with the idea just before completing the African section. The sculpture later became the symbol of the zoo.